It's difficult decorating an entire house or apartment if you're on a strict budget. That's why I have always been a fan of IKEA's IVAR $69 shelf unit —not only is it affordable, but there are so many different ways to use pieces from this collection in general. Depending on how you configure your IVAR's shelves and accessories, you can turn your piece into a wall-long bookcase, a room divider, a makeshift office, or even a plant stand. Inspired by all the IVAR decorating ideas I've been seeing on Instagram, Pinterest, and in Apartment Therapy house tours , I rounded up a handful of my favorite uses here. This collection , which is now over fifty years old, really is the design gift that keeps on giving.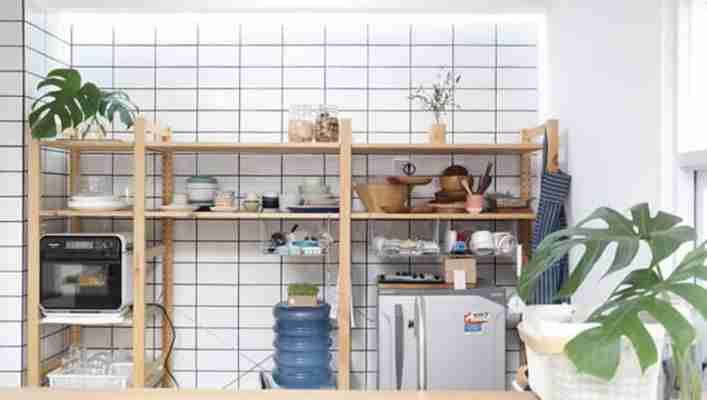 Affordable Kitchen Storage
Not all kitchens have cabinets for days, but IVAR can help you add pretty storage to your cook space, and it won't cost a fortune or visually overwhelm a small area. That's because this pine unit is customizable and backless, meaning your lovely tile work, for example, can still shine through the shelves. That's the case in the kitchen of content creator Astri Puji Lestari . In the absence of cabinetry, she used IVAR to create a home for her fridge and other small appliances—as well as dinnerware, serving pieces, and plants—all while still maintaining a light and airy look.
Living Room Shelving
You probably have tchotchkes and knick-knacks you want to display in your living room, for example, but shelving is often really expensive. That's why the IVAR is an attractive choice when you're on a budget. Not only can you play around with the placement of the individual shelves to make enough room for your vases and books, but this unit looks especially nice when paired with closed storage that has the same look, as seen in the living room setup of Elisabeth Anstensen . A set of accompanying IVAR cabinets like this will only set you back $70 each. They're a great addition to an IVAR shelving unit, especially if you have the space and want to hide the cords from electronics and such.
Office Space
Find yourself working from home more these days or might want to in the future? IVAR can help you here, too. Choose to outfit your unit with deeper shelves and install one of them at seat level to create a desk, as Instagrammer Nina did in this kid's room. Some of the IVAR units even come with a drop-down foldable table if you think you'll need more workspace to spread out on. Either route you go, there are plenty of other spots on these pieces to include other shelves, too, so you can surround yourself with books, files, and other work-related things or decorate with plants, art, and other ornaments.
Plant Display
Do you have more plants than you know what to do with? I hear you. That's why I loved this hack from bloggers Kate and Craig Williams of Tribe and Us . You can display your collection in a big way on an IVAR shelf, as this couple did. Just by attaching a pole to the top of this piece though, they were able to turn a typical shelfie into a place where they could also hang trailing ivies and ferns. This would be a great solution for renters, who might want to hang plants but can't make holes in their ceilings.
Room Divider
If you live in a studio or are lucky enough to have a large living room that you would like to section off into different zones, IVAR is a natural candidate for a room divider, especially if you put a few of these units together side by side. Renters Adam and Daniel built their own custom piece in their Los Angeles loft , and you can easily recreate the look of their design with a few IVAR pieces arranged together. Fill it up with plants, mementos, and books for a maximalist, eclectic look.
DIY Closet
When an apartment or home comes with little to no closet space, IVAR can come to the rescue. Artist M.J. Tantingco, who lives in this San Francisco apartment with several other roommates, used the unit to house clothes, shoes, and electronics. When configured with a bar and several smaller shelves, IVAR is a great way to fake a walk-in closet, as long as you have a stretch of blank wall space to dedicate to a build out like this.
Makeshift Craft Closet
Finally, if you have a huge collection of art or crafting supplies, consider making their storage into a statement piece in your living room or otherwise. Set up an IVAR shelving unit or two, load up on bins and baskets to organize your wares, and add in some plant friends for good measure. Not only will this decorating move bring nature and life to a room, it's an inexpensive and functional way to fill a blank wall.