We're all about efficiency when it comes to shopping for the home, so being able to pick up groceries, rolls of toilet paper, and a few pieces of decor during one single shopping trip is always the dream. Costco , known for its expansive selection of bulk goods, is more than just a place to stock up on cans of La Croix and a never-ending supply of makeup wipes. We've written a bit about the retailer's stylish decor offerings already. But this time around, we've asked designers and design bloggers to share a few of their favorite Costco finds for the home, all of which can be purchased while completing your usual Saturday errands. Here's what to keep an eye out for—and don't worry, many of these items are shoppable online, too.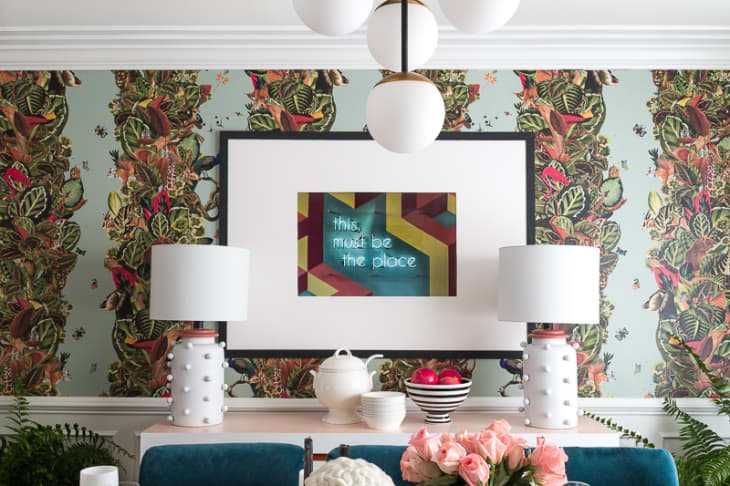 Inexpensive Photo Prints
Blogger Jewel Marlowe spilled just how she fills her home with affordable, colorful art prints. After selecting a few favorite designs on Unsplash , a website that offers an extensive array of free images, she'll print them out at Costco, pop them into frames, and go to town! We love the bold impact the above neon sign photo print makes over her credenza, and Marlowe has featured many other Costco printed pieces in other rooms of the house.
Towels and Bedding
If you're in need of some new linens but don't want to blow your budget, Costco is an excellent place to stock up, explains Nicole Herman, founder and principal designer at The Social Home Studio . Herman specifically enjoys designing short term rental spaces and has successfully purchased many basics at Costco. "They have 'hospitality' grade white towels that stay bright white even when washed over and over again, and they also carry hospitality washcloths in a 24 pack for $20," Herman explains. "This means if your guests get black mascara on them, you don't mind recycling them. The down pillows and duvet inserts are also an incredible buy. They give the bed a luxurious feel without breaking the bank." Buy: Charisma 100% Hygrocotton 4-piece Hand and Washcloth Towel Set , $10.99
Flameless LED Tea Lights
Add some ambience to your indoor or outdoor space with these darling tea lights , which Elegant Simplicity interior designer Sherri Monte swears by using. "We absolutely love these guys and use them on almost every project once we get to the styling phase," she says. "Whether these are placed by themselves next to a plant or vase on a side table or on the center of the dining table with various other decorative accents, they are perfect for every interior style." Better yet, you don't have to worry about open flames or strange scents with these kinds of candles, whether you put them in glass votives or not. Buy: Sterno Home Flameless LED Black Wick .75″ Tea Lights, 18-piece , $16.99
Table Lamps
Has your accent lighting seen better days? Have no fear, Costco's got you covered! Monte is a proponent of the glass table lamp set shown above. "We're never afraid of a good deal for our clients," she explains. " These table lamps work in almost every design because they're predominantly glass. Plus, you cannot beat the set of two for the price!" Buy: Davidson 29″ Glass Table Lamp, Nickel Finish, 2-pack , $89.99
Rubber-Backed Accent Rugs
Design blogger Sara Raak has purchased several practical rugs for her home at Costco. "They are perfect to put in front of our sliding glass door that our dogs use to get to the backyard," she says. "It cuts down on the mud they bring in from the backyard and is also a favorite spot for them to take a little rest. Because they're so inexpensive I have no problem replacing them. Did I mention the rubber backing?"
Faux Fur Pillows
Add some cozy to your space with another one of Raak's favorites: Costco's faux fur pillows . "They have a couple different sizes and prints, and the price is unbeatable," she explains. "My nine-year-old loves sleeping with a faux fur pillow, and the Costco version is currently his favorite. We went with the white pillow, but they have different animal prints too!" Costco is an equally useful resource for decorating a deck or patio, Raak adds. "Don't forget about their awesome and durable selection of outdoor pillows. Bright colors are a must for your outdoor patio, and Costco has some great choices right now!"