Finding the right sofa for your space is an art, and one of the most important factors to consider is its style. From modular sofas to sleeper sofas , there are loads of options from which to choose. If you're bored with clean lines and are looking to make a style statement, the camelback sofa is a classic look that can add a lot of character to a space. Named for its curved back that resembles a camel's hump, camelback sofas vary in design: Some feature a single or double hump, while others display small dips or a barely curved back. Below are ten of the best camelback sofas that are bound to add an effortless charm to your living space.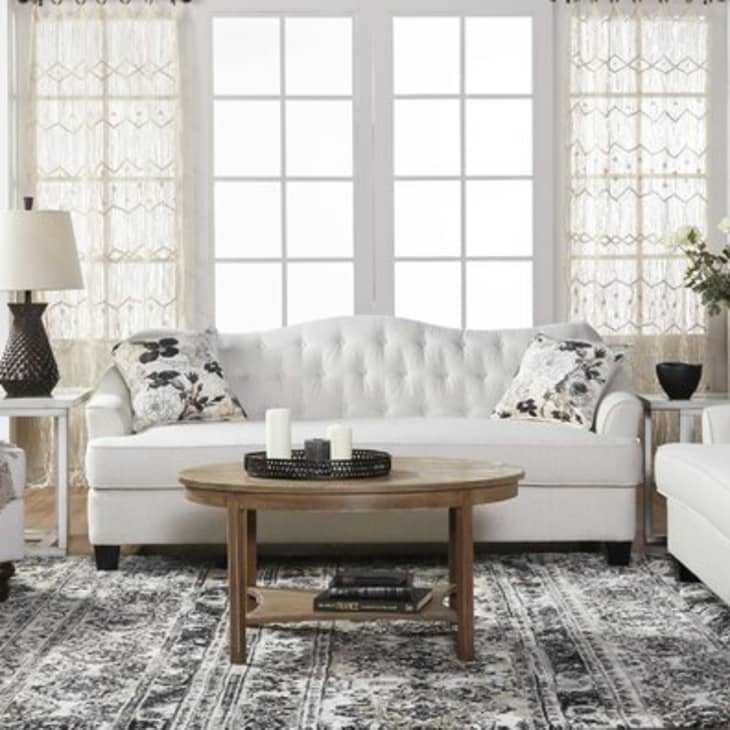 An arched back and button tufting are hallmarks of a classic camelback, and that's exactly what you'll get with the Beverly sofa . It comes in neutral white and indigo colors that will make a subtle statement in your space.
The Gracewood Hollow Penelope sofa puts a contemporary spin on the camelback. Its curved back seamlessly flows into two curled armrests, while high-density foam cushions and soft velvet upholstery make it the ideal spot for your next Netflix binge.
Appreciate a more subtle approach to the camelback? The Altom sofa from Birch Lane is slightly sloped for a gentle take on the design. Handcrafted in North Carolina, this clean, roomy couch also comes in over 100 different colors and fabrics.
Combining a little of the mid-century modern movement with the curves of a camelback, this blush-colored sofa from Everly Quinn is a millennial's dream. Featuring a pleated backrest, a soft velvet finish, and bold metal legs, it's as elegant as they come.
Looking for a camelback in leather? The Sedona sofa knocks it out of the park. Made in the USA by Omnia Leather, this buttery-soft, genuine leather sofa has an architectural appearance and is available in 90 shades.
Trendy velvet meets classic camelback with this tufted beauty from US Pride Furniture. Available in three other colors, this glamorous green sofa has timeless nailhead chesterfield accents, pleated rolled arms, round tapered feet, and high-density foam and spring support cushions that won't lose their shape anytime soon.
A little bit country and a little bit coastal, the affordable Trivette sofa is great for people with kids and pets, thanks to its fade- and stain-resistant upholstery. Its cushioned backrest and deep button tufts only add to its appeal—and did you see that curved back? Gorgeous!
Quality construction and classic curves make up this sofa from Fleur De Lis Living . Available in two colors (check out that bold tangerine shade!), its rolled arms, bronze nail heads, and soft velvet upholstery make it a timeless pick.
The Eden sofa is a simple bench seat that's been given a glamorous makeover with a curvy camelback slope. It comes in over 40 fabric shades, so its delicate style is sure to suit any space.
Covered in a glimmery Deighton weave fabric, this sofa is a visual knockout. The rolled arms and gently sloped camelback give it an elevated, elegant look, while the thick, down-filled seat cushion and plush back offer superior comfort.