A true design chameleon, the color blue remains an ever popular choice for decorating at home because it can hold its own in so many different design schemes and settings. "Blue is one of the most versatile colors in the designer's toolbox," says designer Courtney McLeod, principal at Right Meets Left Interior Design . "It can move from soft and calming to strong and masculine, from urbane sophistication to french country. Blue is a universal favorite because there is a shade to suit every personality and every style."
Whether you gravitate toward deep cobalt, bright turquoise, soft cornflower, or something else on the spectrum of blues, there are endless variations of this hue that you can use in any room of the house, whether you're looking to create a soothing space or a high-energy hangout.
Once you've committed to a shade of blue, you may wonder what other colors to use within a space to create a cohesive look. Falling on the cool side of the color wheel , blue is often thought to pair best with other cool tones like greens, grays, and purples , and sticking to cooler colors can give your room a sense of stability and calm.
The options don't end there, however. For higher contrast—and a bolder look—blue can actually play well with warm colors like oranges and reds . So if your living room is full of yellows, for example, and you're worried that you'd have to fully redecorate before introducing a navy armchair, think again. There are many more beautiful possibilities for decorating with blue than you might think, and a new-to-you blue pairings might be just what you need to shake things up in your home.
Not sure where to begin? Take a look at the 20 spaces below for some inspiration and get ready to embrace these designer-approved blue color combos in your own home.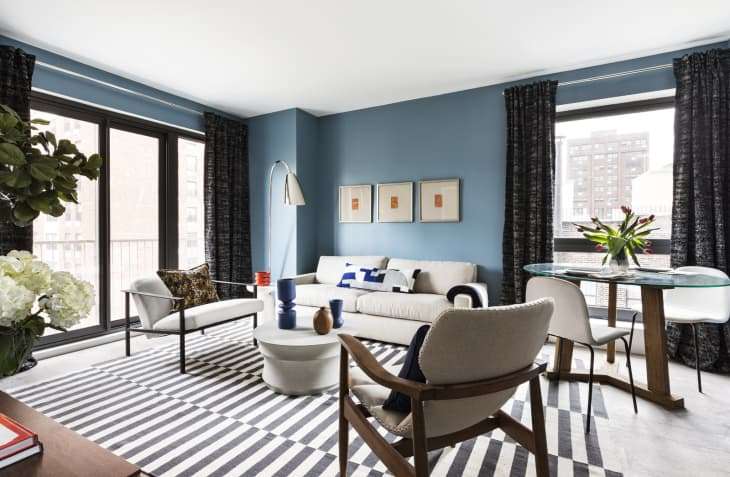 1. Slate Blue and Rust
McLeod is a proponent of this cool meets warm combo, noting, "A rich orange is a beautiful and unexpected pop that adds life to a slate blue color palette." That said, you won't want to overdo it. "A little goes a long way, so I recommend sticking to accessories for adding the orange to your decorating scheme," McLeod explains, as illustrated in the living room above. Use art and objects to your advantage, peppering in those pops of burnt sienna around your space to create a sense of contrast—and movement—against a grayish blue backdrop.
2. Midnight Blue, Black, & White
Midnight blues, mixed liberally with black and white, make for an edgy combo that's ideal for a minimalist who wants to put an eclectic spin on a classic color pairing. This Brooklyn rental features a large piece of blue DIY artwork that adds some drama to an otherwise simple scheme of hotel style linens, white walls, and black window trim.
3. Navy Blue and Mustard Yellow
McLeod describes this high-contrast pairing as an excellent combination that works particularly well for more gender-neutral interiors. What's nice about this sunny look is that popular pieces right now, like natural wood tone furniture and brass accents, only emphasize the warm, golden tones at play with blue here. So many of your existing furnishings already jibe with this color combination. Use navy for a large anchor piece in your space like a sofa or rug—it'll balance out a zingy mustard yellow accent chair and set of decorative pillows.
4. Blue and Gray
Don't shy away from this calm and cool color combo in fear that it will be too boring or miss the mark. Blue and gray complement each other wonderfully; the key is just selecting shades that contrast enough to make an impact, as seen in this Chicago living room . Try this in a bedroom or living room to create the perfect atmosphere for relaxing and kicking back.
5. Pale Blue, Mint Green, & Bright Yellow
"Pale blue and mint green combine to create a fresh and youthful look," McLeod explains. "I like to see these colors used in a balanced way within a space—the addition of a bold touch of yellow really gives it personality." Feel like adding more? A pop of pink can't hurt either, as this home in Israel illustrates.
6. Turquoise and Magenta
Feeling bold? Maximalists will love the idea of pairing turquoise with hot pink or magenta—the sofa and rug setup in this LA home makes for great design inspiration. This living room also exemplifies how easy it can be to add pops of bright color to a space without picking up a paintbrush. Between the sofa, rug, artwork, and coffee table with a yellow frame, there's more than enough hue happening here that you don't even notice the white walls.
7. Moss Green and Sky Blue
If you're a traditionalist at heart, this may be the pairing for you. "Moss green and sky blue are a classic, early 20th-century American Craftsman color combination," McLeod notes. "Use this palette to create a nature-inspired space with a nod to history." This bright combo is a sunny alternative to the classic, black-and-white subway tile bathroom that dominated this period in design.
8. Deep Blue and Olive Green
A deep blue and olive green make for a dreamy bedroom setup in this Michigan home . Once again, burnt orange also shines in the space and keeps the room looking extra warm and welcoming.
9. Teal, Peach, and Charcoal Gray
This UK kitchen is making quite the case for pairing geometric teal tile with peach walls. Pastel hues always give rooms a bit of a retro feel, but this cook space doesn't look too dated or saccharine, thanks to the dark gray cabinetry and black appliances that ground the entire setup. Even the butcher block countertops play off of the peachy-pink wall color, so the whole kitchen is really comprised of harmonious tones in just a few key color families.
10. Blue and Emerald
Truly any shade of blue will shine when paired with this jewel-toned green. The color combo can help achieve a quirky, almost glam vintage look as seen above or could be used to make a space look ultra-sleek and modern when paired with matte black finishes.
11. Jewel-Toned Blues and Purple
On the other side of that coin, the deep jewel-tone blues in this armchair are accented by a pillow featuring a rich purple and other earthy hues. The green paint peeking out from behind the bookshelf ties the look together. Don't be afraid to mix a jewel-toned blue with another jewel tone like eggplant.
12. Blue, Yellow, & Gray
Neutral walls make the perfect backdrop for this bright blue table and yellow chairs. The rest of the room is kept simple to let this colorful vignette really shine.
13. Blue, Brown, & Taupe
The inky blue on this headboard is highlighted by minimalist, neutral bedding and a pair of throw pillows with brown, taupe, and black touches. As well as blue can pair with black, it can also hang with earthy hues, if you are looking for something a little softer and less stark.
14. Blue and Blush
Millennial pink has quickly become a new classic color in decor, and it looks totally on-trend in this blue and gray living room. This is a common color paring in children's rooms, but really chalky pastels can looks lovely all throughout the house.
15. Yves Klein Blue and Black
Going all-in with royal blue cabinets is not for the faint of heart, but the white walls and black windowsills make the color feel a little more accessible. The jute rug also helps to add texture and softness to what might otherwise feel like a stark combination.
16. Blue and Gold
Reminiscent of the night sky, this color combo adds a dreamy feel to any room. Even if you don't go this literal with a star-print pillow, it's easy to riff on this scheme with brass decorative accents and lighting fixtures.
17. Dark Blue and Hot Pink
Hot pink really pops when its paired with other bold colors, especially a rich, saturated blue. This color combo just screams summer and is high-energy. You could also try it in a playroom or even a home office, if you dare!
18. Blue and Orange
Blue and orange are opposite each other on the color wheel, making them ideal complements, as evidenced by this orange lamp and navy wall pairing.
19. Light Blue, Green & Red
A softer blue can feel almost neutral when paired with wood accents, a patterned bedspread, and a smattering of colorful pillows.
20. Blue and Canary Yellow
Dark navy walls allow these yellow flowers to really pop, and the color combo would work just as well throughout the home.
*Updated from a post originally published 10.06.09 with additional writing and reporting by Sarah Coffey.