AC Ryan's Playon!HD2 is based on the same Realtek hardware as most other media streamers, although its fan makes more noise than most. The firmware also feels familiar, but AC Ryan has at least put a rather sleek-looking skin over it. Like most current media streamers, the HD2 has excellent format support, including an option that enables support for menu navigation on Blu-ray ISO disc images, as well as integrated BitTorrent and Usenet NZB download clients which can be accessed via a web interface.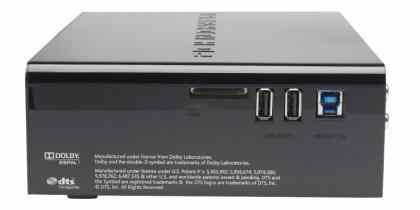 The blue USB3 port makes it quick to transfer content from a compatible PC or laptop
Although the interface is clearly designed and it's easy to see which menu will take you to various types of media, actually navigating it is a little harder. The Movie, Music and Photos shortcuts are primarily designed for accessing media stored on the HD2's 1TB hard disk. The easiest way to get media on to the disk quickly is via a USB3 connection to a PC, where the HD2's disk is mounted like an external drive so you can copy over files. Before you can access them from the shortcut menus, the streamer has to scan and index them, and external USB drives can also be indexed. Unfortunately, although the HD2 can be used while this is going on, everything becomes very slow, even if you're only scrolling through a few settings menus. Navigation isn't much faster even if you're not indexing - there's a delay of several seconds between selecting any given menu and seeing it load.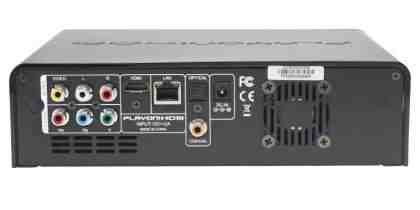 All the ports you're likely to need for connecting to a HD TV
The easiest way to navigate a wider range of media sources, including USB disks and remote SMB or UPnP shares, is via the file manager. You can use this to browse all the files in any location, as well as perform operations such as copying, deleting and renaming files and editing albums and playlists. The file manager shows all files, though, including hidden ones, which means it can be hard to find what you're looking for amid the junk. At least this isn't a problem with the indexed media files available via the shortcut menus, where only files of a specific type are shown. Photos appear as thumbnails, while movies and music are simply listed by file name. The audio interface also shows supplementary information about music tracks. The Internet Media menu provides access to services including Facebook, Twitter, Shoutcast radio, Picasa and Flickr. The YouTubeXL app works, but it can't play videos full-screen.

The decent remote makes a big difference
On the plus side, the remote control feels more pleasant to use than those that come with most media streamers; we particularly liked the texture of the navigation buttons in the centre of the remote. It's simpler and less button-packed than many media streamer remotes, but the buttons still aren't very clearly marked. However, we were pleased to find that many of the streamer's menus include a key to show which button does what.
Unfortunately, a decent remote isn't enough to redeem the HD2. It works and the 1TB of storage is useful, but it's surprisingly noisy and sluggish to use. The Western Digital WD TV Live Hub is a far better hard disk streamer.
Basic Specifications

Rating
**
Media Streamer type
hard disk streaming multimedia device

Audio Compatibility

Audio MP3 playback
Yes
Audio WMA playback
Yes
Audio WMA-DRM playback
No
Audio AAC playback
Yes
Audio Protected AAC playback
No
Audio OGG playback
Yes
Audio WAV playback
Yes
Audio Audible playback
No
Other audio formats
FLAC. COOK

Video Compatibility

Other video formats
MPEG-1, MPEG-2, MPEG-4, APC, H.264, WMV9, XVID, DIVX

Image Compatibility

Image BMP support
Yes
Image JPEG support
Yes
Image TIFF support
Yes

Network Interfaces

Wired network ports
1x 10/100
Wireless networking support
Yes

AV Interfaces

Minijack line outputs
0
Minijack headphone outputs
0
Stereo phono outputs
1
Coaxial S/PDIF outputs
1
Optical S/PDIF outputs
1
Total SCART sockets
0
HDMI outputs
1
Component outputs
1
S-video output
0
Composite outputs
1
Other connectors
2x USB (host), 1x USB3 (client), memory card reader (SD, SDHC, MMC, MS, MSPro)

Physical

Size
63x230x165mm
Power consumption standby
1W
Power consumption on
11W

Server Compatibility

Software included
none
UPnP
Yes
iTunes
No
SlimServer
No
SMB
Yes

Buying Information

Price
£159
Warranty
two years RTB
Supplier
http://www.play.com
Details
www.playonhd.com