Autumn trees are as gorgeous as they are ephemeral, and the temptation to preserve them for as long as possible is strong. This roundup of projects will allow you to bring fall finery indoors and make the magic of autumnal foliage a part of your home.
(above) A Bountiful Fall Floral Arrangement by Sarah Winward for Jenni Kayne
A gorgeous Sarah Winward creation, the hues of this delicate arrangement might remind some of spring – pale yellow, peach, and pink – but as Sarah put it, it's actually the perfect late-fall palette, when the reds and oranges have faded but the yellows are still going strong. It's a beautiful example of mixing branches and foliage with flowers for a rustic, but stunning arrangement.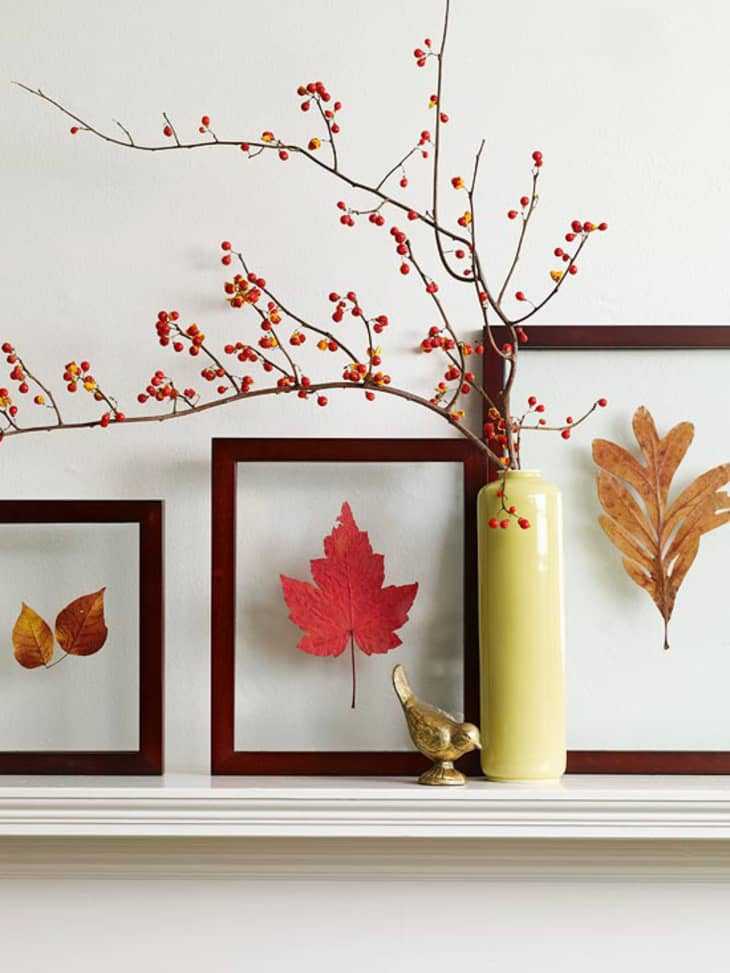 Pretty Leaf Pressings by Better Homes & Gardens
Floating frames and fall foliage go hand-and-hand this time of year, and for good reason. Press your favorite fall finds between book pages and then frame between two pieces of glass for the perfect seasonal decor.
Fall Palette by Sarah Winward for Martha Stewart
This lush, over-the-top arrangement is absolutely to-die-for, and it's a sophisticated alternative to the more-typical orange, red, and gold fall palette. To create something of this scale yourself, you'll need access to trees and some sturdy clippers – or a really well-stocked florist.
DIY Fall Wreath by Style Me Pretty
Start with a wreath form (either a grapevine or a Victorian birch, as seen here), a glue gun, and teeny zip ties, and follow the instructions to create this gorgeous, graceful wreath. Beware: you may be tempted to wear it atop your head. No judgement.
DIY Copper + Gold Foil Branches by Poppytalk
Branches with leaves are a little high-maintenance, so these copper- and gold-leafed branches provide the warmth and colors of autumn without the mess. And they'll last for months or years! Add to your arrangement whenever you find an amazing stick.
Garden Container Arrangement by Martha Stewart
Here's another example of bringing atypical colors into an autumn arrangement: the pink and deep blue berries are a bold counterpoint to the red, orange, and brown background.
DIY Autumn Leaf Geronimo Balloon by A Joyful Riot
It's amazing what dramatic, fabulous results you can get from combining freshly fallen leaves (so they're not brittle), needle, thread, and helium-filled balloons. The tutorial clarifies that these looked perfect after a week, and would probably last for nearly a month. It could also be just as exciting sans balloons, as a fun fall garland to hang on a mantel or railing.
DIY Autumn Leaf Fairy Lights by Wallflower Kitchen
This is utter magic! All you need are string lights, fall leaves (ironed between sheets of wax paper), and some strong glue. The prettier your string light cord, the better, but the focus will definitely be on the stunning leaves.
Chrysanthemum Arrangement by Martha Stewart
You could go totally monochromatic with everything red you can get your hands on this time of year, but the purple addition adds a punch of fun and richness. As seen here, a grey vase is the perfect foundation for such a bright display.
Autumn Leaf Backdrop by A Joyful Riot
Just two ingredients for this tutorial: leaves and tape. Test your tape loops first to make sure they will stick and won't leave a mark (double-sided tape and command strips are recommended for high-gloss walls), and then get to sticking! You'll have a gorgeous accent wall all season long.
Ombre Leaf Backdrop by Oh Happy Day
Here's the ultimate leaf backdrop! You'll need to collect leaves, iron them between wax paper, spray paint them in your preferred ombre palette, and affix to the wall with gaffer's tape. This would make an amazing background for your upcoming Thanksgiving festivities, or if traditional fall colors aren't your cup of tea.
DIY Acorn Garland by Faith Towers for DIYs.com
Don't forget about the lowly acorn! If you find oak branches and leaves to display, collect some adorable acorns while you're at it. Paint the acorn (but not the beret), and glue them to suede cord or your favorite twine. This tutorial suggests finishing your garland off with gems, but you could skip them for a more understated look.
DIY Tree Art Sculpture by Tomfo
In addition to lots of leaves falling this season, you'll notice more and more dead branches making their way to the ground. If you can get your hands on a few larger branches, you can make this incredible project using concrete to set the branches in a more sculptural way. It's a great sculptural piece, but it could also make a great coat and hat rack.