You don't need to be a professional interior designer to know IKEA is the home decor gift that keeps on giving . Between its sleek Scandinavian gems and affordable finds, IKEA has something for every room of the house. And if you find yourself with too many blue and yellow bags full of knick-knacks, don't worry: IKEA has a solution for that, too.
With dozens of shelves, wardrobes, and cabinets to choose from, finding the perfect IKEA storage system for your space can seem a little daunting. But in reality? It's actually pretty simple. According to the experts, it turns out that there are three options that are practically perfect for any space.
Whether you're working with tiny quarters or building out your walk-in closet, check out the three IKEA storage options interior designers say are worth adding to your cart.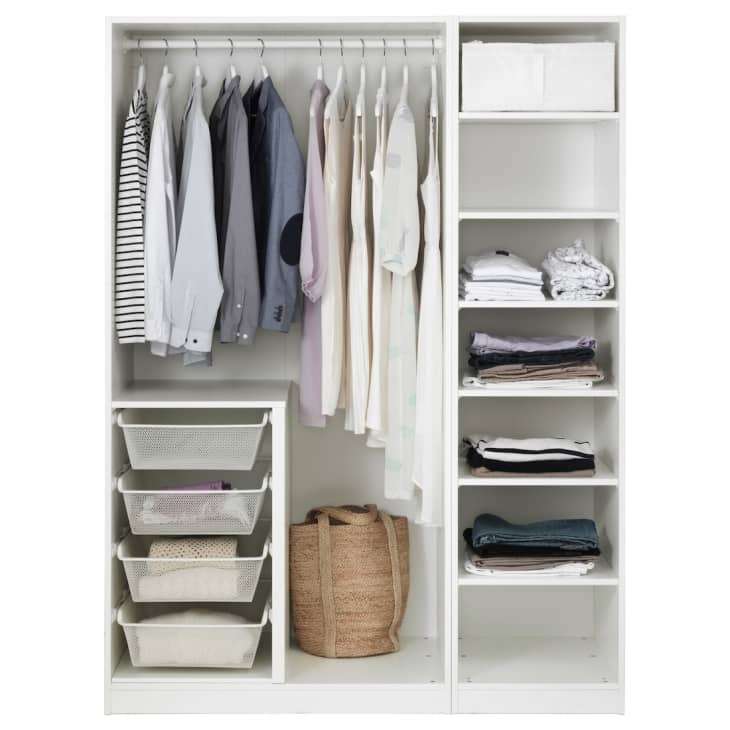 PAX Wardrobe System
"I've said it before and I'll say it again: The PAX is the perfect solution for anyone who needs more storage in their life. I've had PAX units in two of my last three houses and I love them. The extra-tall height gives the look of built-ins without the price, and the depth makes them perfect for all sorts of storage. I've crammed hanging clothes, drawers of shoes, pots and pans, vacuum cleaners, and small appliances into mine!" — Alessandra Wood, interior design expert and vice president of style at Modsy Buy: IKEA PAX Wardrobe, from $55
SVALNÄS Wall-Mounted Storage Combination
"There are so many times that storage is needed and having things stored away and organized just feels good! I love the function and design of this wall-mounted unit. It doesn't take up tons of room, gives you the ability to store and display, and the design is beautiful. It's perfect for a living room or bedroom." — Elizabeth Stuart, interior designer Buy: I KEA SVALNÄS Wall-Mounted Storage Combination, $639
KALLAX Shelf Unit
"This shelving unit is perfect for storing textiles collected on your travels.  Stack them up high for a bright, colorful display.  The drawers are also great for keeping trinkets organized so they don't get lost – plus they serve as a hiding spot for a quick clean up before guests come over." — John Robshaw, textile designer Buy: IKEA KALLAX Shelf Unit, $374