For this review we tested the 65in model in the HU8500 range, but it's also available in a 55in (UE55HU8500) screen size for £2,700. Both models have identical specifications except for their dimensions and power usage. We're confident that image quality will be practically identical across the range.
Samsung's curved Ultra HD TVs were the talk of CES this year, and with good reason. With a huge resolution of 3,840x2,160 and a 4.2m curvature radius, 4K has never felt so immersive. The curved edges not only make it feel like you're right in the centre of the action, but it also makes the screen appear larger than it really is, which is quite a feat considering the HU8500, one of Samsung's first 4K models this year, is already an imposing 65in across.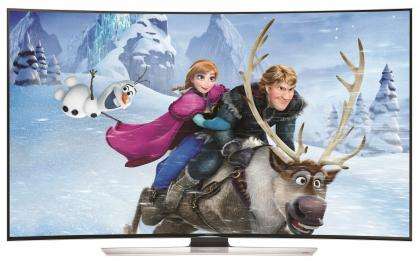 4K content is still very thin on the ground, so most of what you watch will still be Full HD for the forseeable future
4K content is still generally a bit thin on the ground, but with Netflix now streaming House of Cards in Ultra HD and more 4K content on the way, albeit mainly in the form of Samsung's forthcoming UHD Video Pack (a 1TB USB hard drive that comes preloaded with five blockbuster films and three documentaries, price to be confirmed), there are a few more reasons to consider buying a 4K TV now than there were last year. Although the HU8500's price of £3,999 is roughly in the same region as previous 4K sets we've seen, such as the Sony KD 65X9005A and the Philips 65PFL9708 .
Samsung HU8500 Ports and Design
We're big fans of the HU8500's design as well. Its sleek, metallic stand curves in unison with the screen and its surprisingly slim, minimalist chassis looks far more elegant than the huge speakers attached to the sides of the Sony KD 65X9005A, although the hidden speakers here can't live up to that TVs audio prowess. If you're looking to use a separate surround sound system then the HU8500's lesser speakers won't be an issue, though.
The curved back of the TV looks great too, far more stylish than most, great if you have big open plan space and don't want the TV pushed up against a wall. In respect of this, Samsung has minimised the number of ports on the TV itself, with just three ports on the back: one for power, one for Samsung's proprietary audio output, and one for Samsung's brand new One Connect box.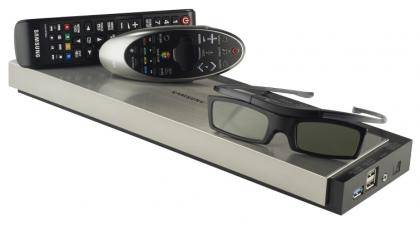 There's plenty of extra stuff in the box, two remotes, the breakout box and two pairs of 3D glasses (only one pictured)
The One Connect box is essentially a dedicated set-top box which acts as a huge port hub, making it much easier to switch cables in and out and keep most of the messy wiring well away from your TV. Along with four HDMI 2.0 inputs, one of which supports MHL 3.0 so you can charge and use an MHL-compatible phone or tablet with the TV, you'll find three USB ports (two USB2 and one USB3), an Ethernet port, a digital optical audio output, an IR output, a Common Interface slot, two satellite tuners, a TV tuner for terrestrial aerials, a component input and an EXT-RGB port for SCART.

There's all the ports you're likely to need on the breakout, One Connect, box
The cable that connects the box to the TV initially looks a bit like DisplayPort, but it's not. The proprietary cable is 3m long, so you'll need to keep the box within reasonable reach of the screen, as far as we know you can't simply buy a longer cable.
Samsung UE65HU8500 4K, HD and SD
When we fired up House of Cards in 4K, the amount of detail on show was simply stunning. Tiny cars and trees in slow, wide landscape shots were all visible with razor sharp edges without the slightest hint of noise or blocking, while zoomed in close-ups really took advantage of the huge screen size to emphasise the smaller details you might not notice on a Full HD stream. We noticed a slight amount of judder when actors moved quickly across the screen, particularly toward the edges of the TV, but enabling Samsung's Motion Plus setting soon helped to smooth this out.
However, we quickly ran into problems when we tried viewing anything less than 4K, and standard definition content fared particularly badly. Samsung's upscaling technology certainly eliminates a lot of noise and artefacts, but the picture appeared so smooth and blurred round the edges that we lost all sense of detail. We expect this to some degree on large screens with high resolutions, but unlike 1,920x1,080 TVs, objects on the UE65HU8500 simply looked like solid lumps of colour while text in adverts and news channels was almost illegible. Setting the MPEG Noise Filter and Digital Clean View options to their highest settings did help to some extent, but you'll definitely want to avoid watching SD channels as much as possible on the UE65HU8500.