When you're elbow deep in mashed sweet potatoes and poultry cavities, the last thing you have time to do is elaborately decorate for Thanksgiving. After all, literally the very next day, everyone is on to Christmas, so putting a ton of effort into styling your home for turkey day always seems like a bit of a loss. That said, should you still want to spruce things up a bit and set a mean seasonal table—and have about 10 minutes to do so—here are 10 ideas to try.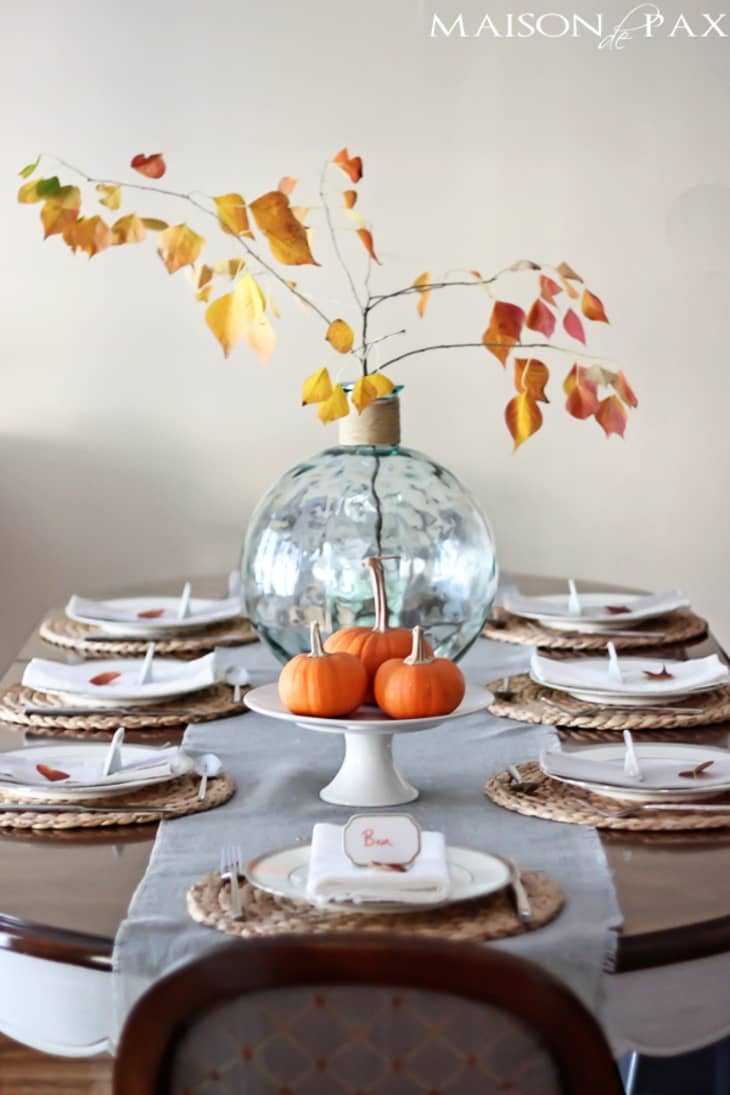 Maison de Pax shows you how elegant (and seasonal!) a table can look without much fuss. Here, they used a single vase with some fall foliage and a cake plate stacked with pumpkins on top of a runner.
Technically, this tablescape found via Wedding Sparrow is a setting from a wedding, but I think it would be just as lovely for a non-traditional Thanksgiving table. Just grab yourself a battery powered set of twinkle lights and some bouquet filler, and you're all set.
Leave it to Good Housekeeping to go the classic route but still make it look lovely. Grab a few short vases/candle holders, fill them with votives and hazelnuts (or acorns!), zip-zag a satin ribbon around them and round out the look with a smattering of walnuts.
Here's an idea from Country Living for your front door. All you need are some pinecones, ribbon and hot glue and you've got yourself a seasonal hanging that will last you through the new year.
This image and the next, from Julie Blanner , show how beautiful a table can look with some seeded eucalyptus strewn about. Here, she mixed in low pillar candles and apples.
And here, it's simple silver dollar eucalyptus springs and mini white pumpkins. So simple, you may be able to do it in five minutes flat!
At first glance, this enviable table setting spotted on Country Living looks like it took a ton of time and effort. But, looking past all the foliage (which is really just greens in small vases), this is just kraft paper laid across the table, adorned with a white paint marker. You won't even need placemats.
Martha Stewart proves all you need is some acorns and string to get into the Thanksgiving spirit (is that a thing, actually? It should be).
While you're at the grocery store, pick up a few packs of rosemary and twine to create a super simple place setting. Finding Home went a step further by adding dried lavender and a feather, but you might need to add a few more minutes to the time table if you want the same look.
And finally, from Edna Valley Vineyard , take a few small pinecones and insert a handwritten name tag and voila, you have yourself a festive Thanksgiving table.