The LG Cinebeam HU80KG is a 4K projector with a difference. Where most projectors are built in a broad, flat case that can be placed on a surface or hung from the ceiling, this LG is housed in a blocky, two-foot-tall tower.
With the projected image firing out of the top and against an angled mirror, the LG HU80K has to be the oddest movie-watching machine I've ever tested.
READ NEXT: The best 4K, 1080p and gaming projectors to buy
LG Cinebeam (HU80KG) review: What you need to know
Is it unusually good, though? From the specifications, it certainly looks that way. With 4K resolution, a top brightness of 2,500 ANSI Lumens, a laser lamp that lasts up to 20,000 hours of use and support for HDR10 – plus many more features besides – the LG HU80KG could be the perfect companion for the modern home theatre.
LG Cinebeam (HU80KG) review: Price and competition
And it would have to be nigh on perfect for the price LG is asking. At £1,814 inc VAT, it's far more expensive than most of the current "budget" 4K projectors, and yet essentially uses a very similar core projection engine.
The main rival for the Cinebeam in the 4K projector stakes is BenQ's latest 4K projector, the BenQ W2700 . This doesn't look quite as nifty and lacks some of the nice extras the Cinebeam has, such as wireless DLNA projection, but it costs nearly £500 less, at £1,391.
For even less than this, you can pick up a BenQ TK800 for a smidge under £998 , which has a peak brightness of 3,000 ANSI Lumens and similar single-chip DLP projection technology.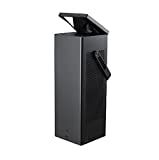 LG Cinebeam 4K (HU80KG) review: Design and features
For the specification, the LG Cinebeam 4K looks a little pricey, then. It uses a single TI DLP XPR chip, which means that, technically, it's not a true 4K projector. Instead of projecting all the pixels in a 4K frame simultaneously, the projector shifts a 1080p image microscopically multiple times per frame to give the impression of 4K resolution.
To be fair to it, there are no true 4K projectors in this price bracket. For that, you have to move up to £4,000 and more; the trouble is that most single-chip DLP XPR projectors are considerably cheaper. So, why would you buy the LG?
First, rather than a standard UHP lamp, which most cheaper projectors use, the LG employs a laser light source. This, says LG, both lasts longer (up to 20,000 hours) and deteriorates less over time. In other words, you shouldn't need to replace the lamp as frequently as with other projectors. Even then, 20,000 hours represents nearly 14 years of use at four hours of watching each day, every day – and, by that time, we'll all be watching 16K video anyway. Effectively, then, it's the lifetime of the product.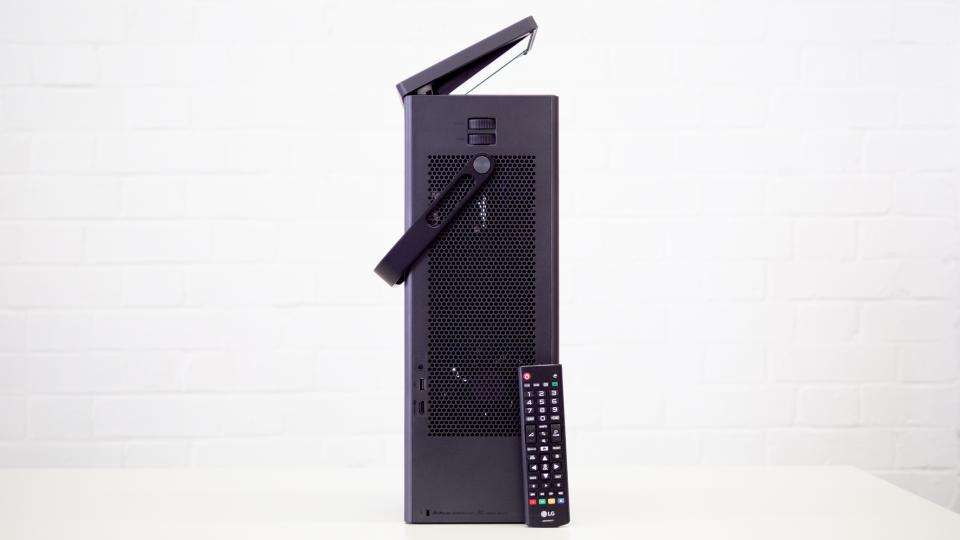 The other big reason you might consider paying more for the LG Cinebeam 4K is the unusual design. Instead of having a lens at the front of the projector, the Cinebeam 4K's lens faces upwards, projecting the image and off an angled, hinged mirror and then, finally, forwards onto your screen.
The advantage of this design is that you don't have to place the projector on a raised surface in order to beam your image at a sensible height. Just pop it on the floor, pull up the hinged mirror and gently tweak until the image is in just the right place.
Automatic keystone adjustment helps ensure your image always looks straight-sided. On the flank of the projector are two manual control rings for zoom and focus to finish setup, and there are four adjustable rubber feet on the bottom of the tower to help keep the projector image level on uneven floors. There's an integrated carry handle to help you move it around and even a self-retracting mains cable so you don't have to go rooting around for a kettle lead every time you want to use it.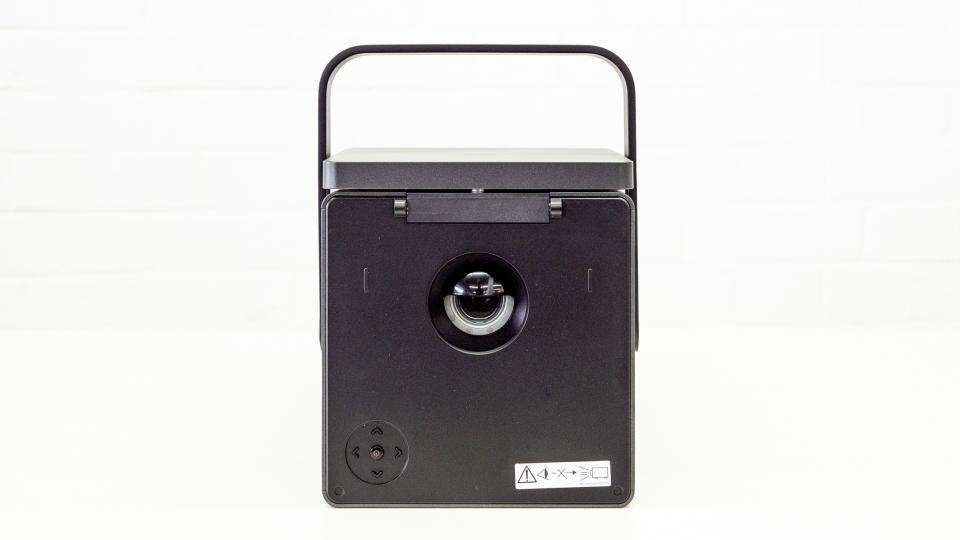 That's not an end to the Cinebeam's flexibility, though: it can be used horizontally as well. Simply fold the mirror out of the way, pop it on its side on a table and the lens will face directly forwards, just like a regular projector. You can also use the four mounting points on the side to hang it from the ceiling if you so wish.
It's a clever piece of design, no doubt but, in some respects, it's annoyingly impractical. Adjusting the mirror to get a screen-filling image, for instance, is a bit on the fiddly side. I'd also expect, at this price, to see some degree of vertical and horizontal lens shift adjustment to help with fine-tuning the position of the image on your screen.
LG Cinebeam 4K (HU80KG) review: Connectivity and audio
Connectivity is fantastic, though. For your 4K Blu-ray player and games consoles, there are two HDMI 2 inputs, one on the side and one beneath a removable flap on the rear. For audio, you get one 3.5mm analogue headphone jack and an optical S/PDIF.
As for network and data connectivity, that's comprehensive, too. There's an Ethernet port and Wi-Fi for network streaming, and the projector supports not only DLNA streaming from local network shares, but also Miracast screen mirroring from phones and tablets and LG's smart TV platform, enabling streaming from YouTube, Netflix and the like.
There's a pair of USB Type-A ports and an accompanying media player so you can plug in external drives and play files directly. Bluetooth transmission enables wire-free connection to external speakers, soundbars and headphones; I tried this with a pair of true wireless Samsung Galaxy Buds and, impressively, although there was some lag, it was barely perceptible.
In short, the LG Cinebeam is equipped to stream pretty much any video from anywhere you like. The only thing it doesn't have is its own suite of built-in apps – for that, you have to move up to the smart HU80KSW version (£1,928) , which has apps for UKTV Play, Netflix, YouTube, Spotify and others. You can add your own fairly inexpensively, however, by adding a Roku Streaming Stick+ or a Chromecast Ultra .
LG Cinebeam 4K (HU80KG) review: Image quality
However, the most important thing to get right for any projector is image quality and, in this respect, I'm a little less impressed with the Cinebeam.
On paper, it looks good, with an eight-segment RGBYRGBY colour wheel and support for both 4K and HDR10. Although projectors can't reproduce the same range of brightness and contrast as HDR10 TVs, some can and do offer a similar colour range. Alas, that's not the case here. With the Cinebeam's Standard mode and medium colour temperature settings selected, measurements with a colorimeter revealed a colour space closer to Rec.709 than the DCI-P3 gamut used by the HDR10 standard.
Sure enough, when I turned to my selection of test discs, the colours looked slightly muted and flat. The gritty orange of the desert dust set against the stark machinery in the opening scene to Mad Max: Fury Road lacked vibrancy, and the dingy opening scenes on Corellia lack depth. Bladerunner 2049 looks clearer, but I've seen better on projectors costing less than this.
Peak brightness isn't all that wonderful, either. With brightness and contrast tweaked to prevent clipping in the lightest and darkest tones, and the projector set up to fill an 84in projector screen, I measured a peak brightness of around 120cd/m2 from a metre away. That might be fine for watching in dark rooms but isn't wonderful for use in brighter conditions. Considering this is a projector that seems designed primarily for casual use, not installation in a dedicated cinema space, that's far from ideal.
Here, the cheaper Optoma UHD51ALVe and even the sub-£1,000 BenQ TK800 perform better, producing results of around 280cd/m2 and 230cd/m2 respectively.
While I'm on the subject of suitability for casual use, it's well worth noting that, although it might look like a short-throw projector, you'll need to leave a fairly long distance between projector and screen to get a large image. For my 84in screen, that means the projector needs to be at least 2.4m distant.
LG Cinebeam 4K (HU80KG) review: Verdict
I really like the design of the LG Cinebeam 4K; it's packed with genuinely useful features. From the retractable mains cable to the tower format, Bluetooth transmission capabilities and long-lasting laser light source, this is one flexible machine.
The problem is, where it counts, the LG Cinebeam 4K falls short. While the image is sharp, it's tricky and fiddly to adjust so it fills your screen perfectly. Colour reproduction is disappointing for such a pricey projector, and despite the 2,500 ANSI lumens rating it isn't all that bright. Plus, the throw ratio means you have to position it a long way back to get a sizeable image out of it.
Overall, it's a good attempt, and the price is pretty good considering how long that laser lamp will last you; however, for the very best image output I'd advise saving some money and buying something like the £1,300 BenQ W2700 instead.