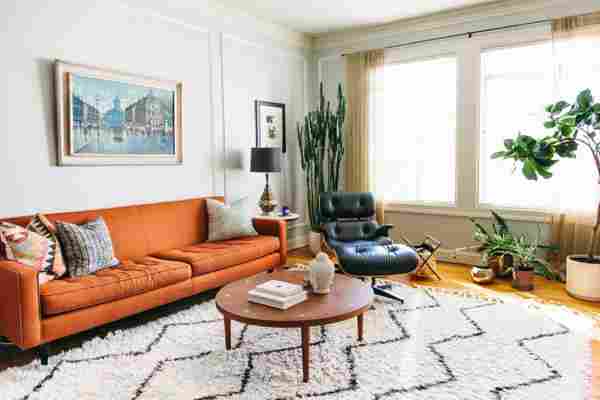 The New Year is here and it's bringing a whole slew of cool new home decor trends with it. According to our friends at Etsy , the popular hues of yesteryear—think: millennial pink and ultraviolet—are on their way out, and burnt orange is about to be everywhere .
With trend casters betting on other earth-toned fads for the upcoming year, including Southwestern-style motifs and natural fabrics, it makes sense that the desert-inspired hue is about to have a big moment in the design world. In fact, decor elements in shades of burnt orange have been popping up in our home tours for a hot minute now—usually in small but impactful doses.
Like the bold burnt orange upholstered sofa inside Sara and Rich Combs' laidback San Francisco living room above.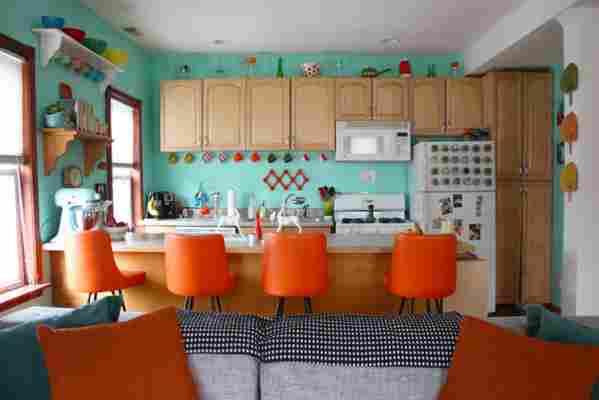 Or the eye-catching set of four bright burnt orange leather barstools that offset the colorful teal walls of Jamie Bayer's Chicago kitchen .
And let's not forget the vibrant living room walls inside Jen Garcia and Andrew Carnwath's Richmond, Virginia, home , which the pair painted three times before settling on the perfect shade of burnt orange (a.k.a. Benjamin Moore's Pumpkin Patch ).
So to kickstart your own 2019 design endeavors, here are a handful of stylish burnt orange decor items you can buy on the web today.
1. Atticus Bonded Leather Accent Chair , $168.99
For an unexpected pop of color, employ this clean-lined, mid-century modern-style accent chair that comes upholstered in smooth burnt orange-colored leather.
2. Knitted Tweed Throw Blanket , $33.25
Snuggle up with this chunky burnt orange knit blanket and you'll stay warm and in style all season long.
3. Burnt Orange Metallic Leo Table Lamp (Set of 2) , $149.99
Bold but sleek, this commanding pair of burnt orange tapered glass table lamps boasts a shiny metallic finish for added flair.
4. Burnt Orange Abstract Watercolor Painting , $30
An abstract watercolor print in gradient shades of burnt orange is a sophisticated way to bring a bit of color into a neutral space.
5. U'Artlines Pillowcase Cover at Amazon, $6.98
A chic burnt orange pillow cover for under seven bucks is the stuff of home decor dreams. This colorful cutie is composed of lightweight cotton-linen fabric and is—gasp!—machine-washable too.