Who loves houses? Everyone. Everyone loves at least the idea of living inside their very own abode. Thusly, since I think you know that everyone also loved competitions, it's always a fun time to look at the results of a housing design competition. Here's one! This one's held yearly by D3 and is called "Housing Tomorrow." We've got the top five concepts right here, all of them housing, all of them hot, all of them architecture-tastic.
Seriously get your love eyeballs out because this competition calls for architects, designers, engineers, and students to bust out their dogs and apply their brains to residential urbanism, architecture, interiors, and designed objects. Make it awesome.
Designers: Entrants into D3 Housing Tomorrow 2010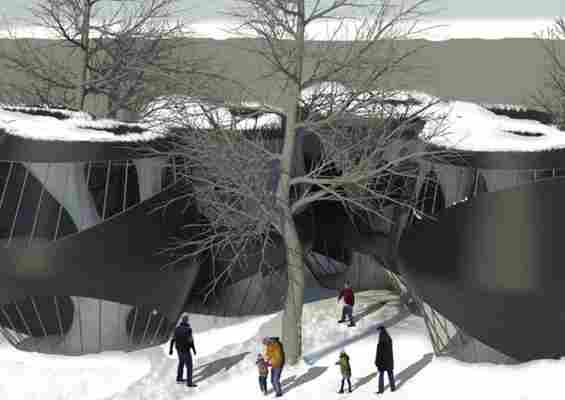 First Prize: Home Spun: Water Harvesting Prefab Urban Housing for the Great Lakes Region by Liminal Projects, USA This project employs concepts from the Small House Movement which attempts to minimize the ecological impact homes have on the Earth by making them really small. This particular set of houses is constructed of lightweight carbon fiber and is capable of harvesting, storing, and processing water from rain and snow. Also they look like giant barrels, a look which has grown on me VERY quickly.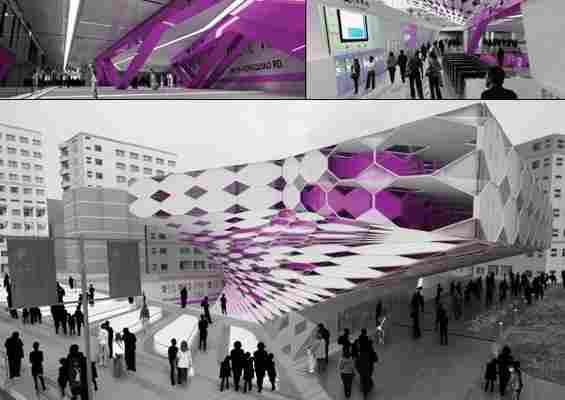 Second Prize: Hongquiao Station: Living within the Shanghai Subway System by Rafael Luna, USA A very complex project that basically boils down to reacting to the fact that about 50% of the world's population living in cities. Through the subway system connecting with food, shopping, and entertainment systems, a singular structural logic is created with a flexible infrastructure in mind. Wild, yes?
Third Prize: Smallness: Rescripting Collective Housing in Shenzhen by Qili Yang, China Similar to the second prize project, this "Smallness" project focuses on urban density, studying specifically Da-xin Village, a natural town center in Shenzhen, China. To develop the area without neglecting the existing urban context, this project adds 30 percent more livable area, expanding the floor ratio from 2.7 to 3.6 at the site.
Special Mention – High-Density Housing: Double Stuff by Richie Gelles & Viktor Ramos, USA More mega-housing, this time lifting it up on some transparent legs so as to not make it look as terrible as modern skyscrapers. Go go awesome architecture!
Special Mention – Medium Density Housing: Eco-Chrysalis for Newcastle-Upon-Tyne by Paul Jones, UK Very similar (in a transparent way) to the other "special mention" project, this is an upward-looking housing structure that's a lot more gorgeous than our everyday block-square apartment buildings.
Check out the rest of the entries at http://www.d3spacerg/ .
Towers of Water in the Sudan
In celebration of 2010, it marking 50 years of the United Nations adopted a resolution of independence, freedom, and sovereignty for all African nations, designer Hugon Kowalski has decided to create a water tower project. Availability of fresh water in the Sudan, an area where only 2% of the land is arable, is one of the most important issues for the entire population. In 2007, University of Boston scientists discovered an underground lake that might solve everyone's water problems, thus, they must pull it up!
Take a peek at this extremely important set of facts regarding the water:
What designer Hugon Kowalski wants to do is excavate that lake in the form of water towers and in the shape of the baobab tree, a symbol of the African savannah. There will be three towers, each symbolizing a region in the culture: Islam, Christianity, and animism. Inside each of these towers would be the following: pumps and water treatment plants, a hospital with a vaccination unit, a school, a club for youth and adults, food storage, and offices for international good-giving organizations.
Each building would have both an over-ground part and an underground base. In the center, a water reservoir. From there, a system of pipes would feed to the over-ground rooms and to adjacent villages. The water's flow would be constant, helping keep its temperature a constant 6-11 °C. With this coolness, buildings count be kept cool as well. The school with library occupies 10 floors of a tower, while 30 classrooms host up to 1000 students. Below each tower is a food bank and a train station with one passenger and one cargo platform, with specially designed cargo elevators to transport whole cars up from the platform to any level of the tower.
Internet runs through all the buildings for connectivity. The construction of each of the buildings is columnar and spandrel beam for ease of assembly. Construction materials are of local creation and implementation, while solar and heating panels are applied for power.
For more information regarding this project and/or how you can make it a reality, please leave a comment below or contact Hugon Kowalski directly by heading over to his UGO Architecture and Design site at http://www.ugoom.pl/
Designer: Hugon Kowalski of UGO Architecture and Design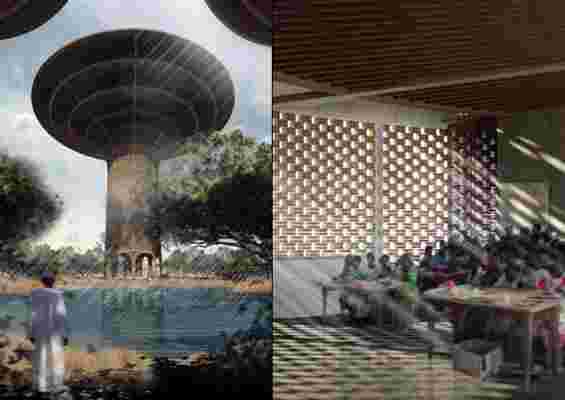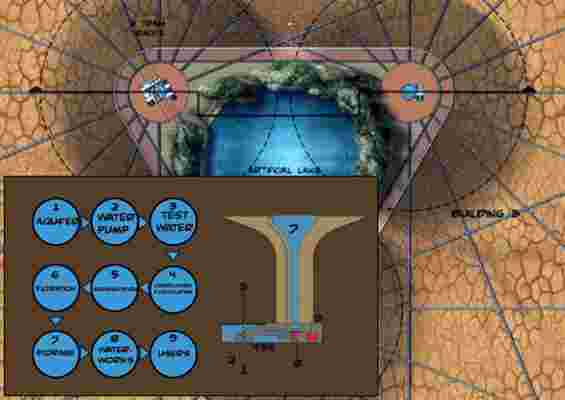 A Hut of Paper and Light
The following project is called Empapeladas Espacio Efimero and it was made by Kumi Furio and Yolanda Herraiz. This is more of an art project than a design project, but then again, who's to say? Made entirely out of paper, created by a series of paper laminas, repeated and repeated until a space was formed, one where you go inside and you're only surrounded by paper and light. Such an experience have I never experienced. Are you experienced?
It's what's called an ephemeral space, made to put the viewer in a space where they would be allowed to explore for themselves the boundaries broken down by sewn paper and light. Filtering down and around through the paper is light, light that once you're inside somehow becomes more of a presence even though it's been filtered downward into a haze. Lovely magical artwork.
Designer: Kumi Furio and Yolanda Herraiz