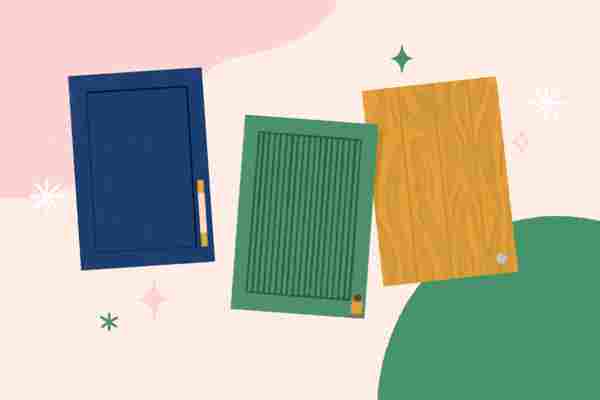 Countertops, hardware, and backsplash tiles might be easy ways to make a style statement in your kitchen, but the first thing that catches the eye? The color of your cabinets! Not only will this detail make an instant impact, but the color of your cabinets can also reveal a lot about your personality and design taste. Moreover, even if you don't have your dream kitchen right now, colored paint is a great way to personalize and refresh your current cabinetry.
"Getting your kitchen cabinetry color right is crucial," explains Patrick O'Donnell, international brand ambassador at Farrow & Ball . "The kitchen's often the most expensive room to fit in your home, so really consider, 'Could I live with this colors five to 10 years from now?'"
The other million dollar question to ponder: What does your kitchen cabinet color say about you ? Here's what several experts had to say about how cabinet shade selection can reveal your true colors when it comes to design and beyond.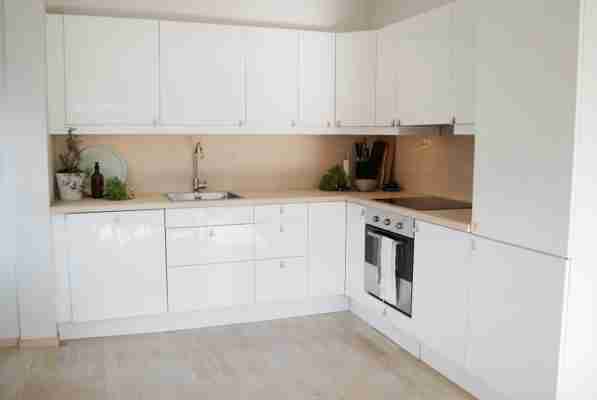 White, cream, or beige
There's a reason white or light-colored kitchen cabinets are all the rage these days. These quiet, simple hues feel right at home with today's penchant for minimalism and the KonMari method . Chances are, light cabinets will spark joy for anyone who's organized, on top of things, and loves a good deep clean. "White, cream, and light beige tend to be choices for a lot of homeowners who are looking for that clean, classic, fresh mood for their kitchen," explains kitchen designer Christopher Peacock.
That said, with light cabinetry comes great responsibility. Your white cabinets will only look good if they're meticulously cared for and doted on. I'm not worried; if your personality is anything like what your cabinetry suggests it is, I know you're already on it!
Light gray
When it comes to choosing a color for cabinetry, light gray is a relatively safe choice. It offers a little more spunk than white but isn't as daring as, say, a moody black. It's that versatility, though, that makes light gray a bit mysterious. "Those who choose sophisticated and calming light gray are seeking a bit more of a color commitment but still like playing it safe," Peacock says.
But according to Kelly Silverstein, owner of Humanity Home & Cabinetry , the accent color you pair gray with might be more telling than the hue itself. "Those accenting with muted tones of white, sand, and maybe muted golds are more likely to be similar to those in the neutral category," she explains. "Pops of yellow or red — two colors that look fabulous with light gray — are selections more often made by the young-at-heart, more energetic crowd."
Design chameleons will find a lot to love about light gray. You can use this color as a blank slate to update with accents however and whenever you please.
Charcoal or black
While charcoal gray and black might be considered versatile neutrals that can work in any space, you rarely see these darker hues take center stage in a cook space. Anyone who decides to paint their kitchen cabinets one of these colors probably lives for drama — in the best way possible — of course. "Those who go for charcoal or black cabinets tend to be dramatic and a little edgy," says Nicole Gibbons, founder of Clare , the direct-to-consumer paint company. "They're not afraid to really go bold and make a statement."
Black or charcoal gray cabinets are certainly not for the risk-adverse design lover, but they're the perfect match for people who are bold, confident, and seek a little adventure, at home and otherwise. Moreover, if you get enough natural light in your kitchen, there's no reason that you can't go to the dark side with your cabinetry and still feel like your kitchen is bright enough to prep and cook in.
Navy or medium blue
Any color psychologist — yes, they exist ! — will tell you that blue hues are known for their soothing, relaxing effects. Instead of getting caught up in the chaos of the day, a stroke or two of blue can remind you to pause and take a moment to relax. So it's no surprise that whoever paints their cabinets blue (even a medium to navy shade) brings that same even-keeled attitude to every facet of their life.
"A navy or medium blue cabinet tends to indicate a measured or steady owner," says Gibbons. "They're easygoing and love a classic, tried-and-true look."
If you have blue cabinets, there's a good chance rash decisions are not your thing. Instead, you take your time, weighing the pros and cons until you're confident you made the right pick. "This is a great color choice for someone who wants to push the style envelope but still stay within a classical theme," Silverstein says.
Emerald or hunter green
From your trusty throw pillows to your collection of plants , green is certainly having a moment in home decor right now. However, I have to admit it's the not the first color I'd think to add to a culinary space. Truth is: I associate "green" and "kitchen" more with the kale and broccoli in my fridge. According to Silverstein though, anyone who picks this cabinet color is actually ahead of the design curve.
"This person is a trend-setter, as I predict that these colors — especially emerald — are going to be big in the near future," she explains. "These clients are generally fun and playful, as well as romantic and daring in all aspects."
Green has often been associated with balance, harmony, and, yes, romance. If you have green kitchen cabinets , it's likely that those characteristic extend far beyond your kitchen. From organizing virtual happy hours with your colleagues to planning thoughtful date nights for your significant other, you're all about making life's tiniest moments memorable.
Red
Red is a risky color to add to any room of the house — must I remind you of Mr. Big's accent wall in "Sex and the City?" Your kitchen is no exception to this rule. It's safe to say that anyone who paints their kitchen cabinets red is equal parts bold and confident.
"Occasionally we have homeowners who don't shy away from the drama and want their strong personalities to reflect in their color choice in their kitchens," Peacock says. "[They go for] the glam with high gloss black, deep blues, or even bold crimson reds."
So what do your red kitchen cabinets say about you? Well, for starters, you're a total boss. Whether you're the MVP at work or always decide which movie you and your roomies watch, your take-charge leadership skills shine through. You feel empowered to speak your mind and go after what you want, and you usually get it!
Orange and yellow
Whether scrolling through your Instagram feeds or perusing Apartment Therapy's latest House Tours , rarely do you spot yellow kitchen cabinets. Orange is even harder to find. When you do though? These citrusy choices make for stunning spaces. If you have cheery yellow or sunny orange cabinets in your kitchen, it's likely you embody that refreshing (and slightly unconventional) attitude in the rest of your life, too.
"Those who gravitate towards these shades are daredevils and maybe a bit wacky in the best way possible," Silverstein explains. "Kitchens featuring orange are the fun, family-oriented, and playful centers of the home."
You're all about having a good time. When you're not coordinating family game night over Zoom, you're likely scheming up fun DIY projects that emphasize your eclectic design style. You put your quirks on full display — and rightfully so. After all, there's no need to blend in when you were born to stand out!
Pink
What does it mean if you see your kitchen through rose-colored glasses? Similar to anyone with orange or yellow cabinets, you're all about having a good time. "Pink is fun," Gibbons shares. "This color, particularly on a kitchen cabinet, lets you know you're in the home of a carefree, adventurous spirit."
Shades in the rosy family are often synonymous with being saccharine, but don't worry Your pink-clad kitchen doesn't have to veer into super sweet territory, unless you want it to. "For something a little more unexpected but equally sophisticated, look to a mushroom pink such as Farrow & Ball's Dead Salmon No. 28 ," O'Donnell recommends. "This would look delicious in a poorly lit space, especially if using our Full Gloss finish to help bounce light around the room."
Natural wood tones
That said, not all cabinets are covered in a room-defining hue. In fact, many kitchens feature natural wood tone cabinetry. "Typically when natural wood tones are chosen, it is used as a reflection of the surrounding character of the home," Peacock says. "[It usually has] richly stained quarter sawn oak or natural clear walnut that don't seek to grab all the attention."
There are many reasons to keep your kitchen cabinets au naturale . Maybe you want to show off the rest of your space's character or perhaps you're craving something that transcends time and trends entirely. More times than not, however, anyone who sticks with natural wood tones wants to pay homage to Mother Nature herself. "They are also often nature lovers who love to be outdoors and want their homes to reflect the natural world around them," Silverstein adds.
What's the color of your dream kitchen cabinets? Is your shade's personality description right on the money or way off-base? Share in the comments below!