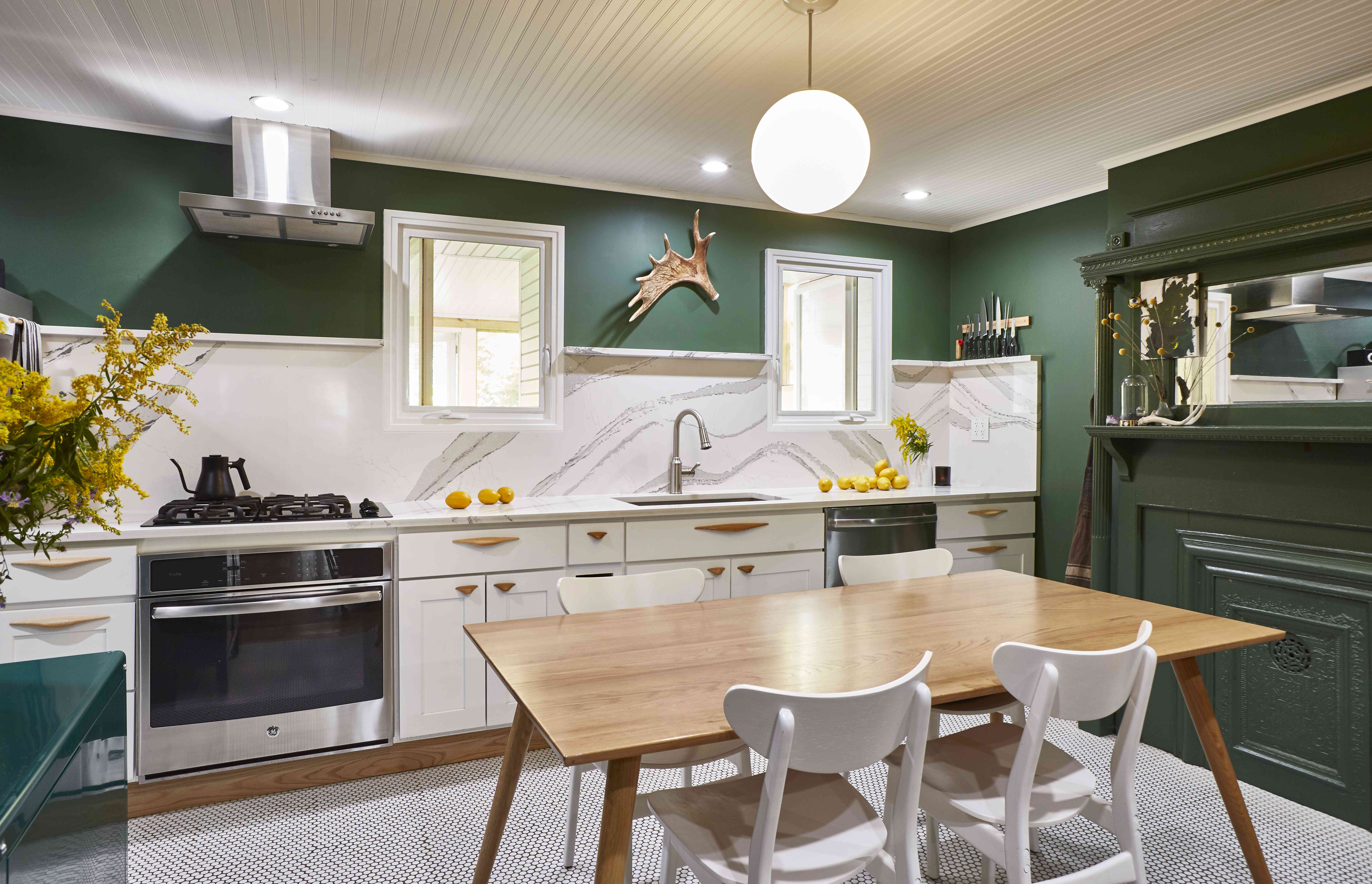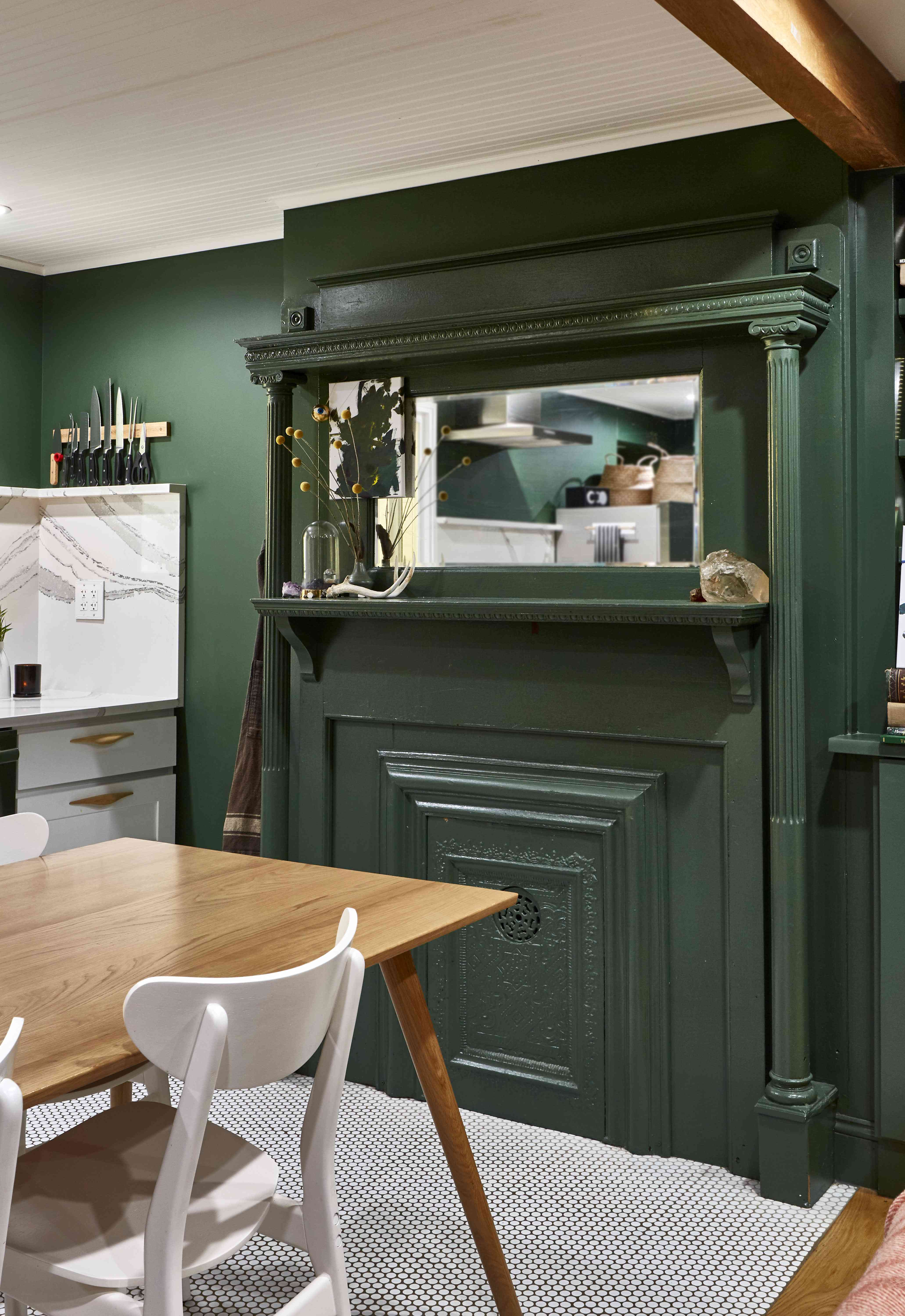 As an artist , Melissa wanted to create a creative, inspiring home for her whole family. But function was clearly important, too, as the heart of the home reveals. "My favorite room is the kitchen; it's my workhorse," says Melissa. "When we remodeled I wanted to have the streamlined efficiency of a commercial kitchen without looking at all like one. I also wanted it to not scream kitchen by having classic kitchen elements blend more into the living space. No upper cabinets was my starting point."
Apartment Therapy Survey:
My Style: Modern classic, intentional, and minimalist with a spirit of the deep, dark woods.
Inspiration: Nature is everything to me and my family. I wanted to design a home that embraced the "green" we were lacking in city life by emphasizing the visuals of wood, stone, and found natural objects while keeping the space modern and uncluttered.
Favorite Element: The garden. It is an oasis for city dwelling creatures, human and non-human alike! There are resident possums, snails, catbirds and cardinals, hawk moths, and praying mantis, raccoons, cats, and crows! Birds fight for the springtime delight of nesting in the rose bushes. I've learned much about the passing of time from my garden, watching the birds grow and take flight, the ongoing symphony of plants reaching their crescendo, passing on and making way for the next act to bloom. I planted every plant and tree in this garden over the past 13 years. There is a plum tree, yellow rain tree, crab apple tree, wisteria, and honeysuckle, roses galore, hydrangeas, and ferns. My gardening style is not professional, I treat it more like a painting, editing and fitting the branches and blooms as I go. I have much to learn but this space is an ultimate pleasure to care for and tend to.
Biggest Challenge: Making the rooms fit. I wanted to make the most of our living space so we sacrificed space in the two bedrooms. They are small and strangely shaped but with some clever storage we managed to keep them feeling open. Painting a small room a dark color seemed like it would feel claustrophobic but I went for it and found when you put very little on the walls, the space can continue into deep, rich depths. The key was to keep it very simple.
What Friends Say: Friends usually mention the green walls. It's a bold choice and I think they are surprised in liking it!
Biggest Embarrassment: Not doing enough research before hiring the right contractor. It is a real struggle investing time, finances, and trust in the wrong company.
Proudest DIY: When our young, childless selves bought our home in 2007, we gutted and renovated every inch of the house ourselves. There were layers of flooring to peel up, rusted tin ceilings to pull down, we handmade DIY counters and cabinets. We sourced every used appliance and building material we could find from Build it Green. Fast forward 10 years and our unprofessional DIY house was a bit haphazard for our growing family. So this time around we hired a contractor to rehab the entire house. I guess I could say my proudest DIY in this incarnation of our space was designing every element from the ground up in our family home.
Biggest Indulgence: The counters. They are Cambria Brittanica quartz and cost more than I anticipated paying but they really made the space, especially with the slab backsplash. I cook every meal (and then some these days) and have a young child so a porous stone where I have to worry about staining was not for us. Those ribbons of grey are a total visual indulgence too.
Best Advice: Good design isn't expensive, it's thoughtful. Plan your space with intention, use a few nice pieces as the backbone of the look, and fill in the blanks with modestly priced structural elements. And most importantly, question what we as consumers are conditioned to "need." Keep it minimal and purposeful.
Resources
PAINT & COLORS
Entryway, Living room and Kitchen — Sherwin Williams – SW 6440 Courtyard ; Eggshell on walls, gloss on trim and pantry
Bedrooms — Sherwin Williams – SW 6994 Greenblack ; Eggshell on walls gloss on trim and wardrobes
ENTRY
Vintage Mirror — Local thrift store
CB2 — Bird Basket Side Table
LIVING ROOM
Art — "Sacred Space" (Large framed painting) – ​ Melissa Murray ; "Untitled" (Small black flower painting)-​ Jenn Dierdorf ; "Mine" (Baby nursing painting) – ​Madeline Donahue ; "Robin's eggs" (Boy with red hat drawing) – ​Loren Erdrich
Body Fit Cushion, Green wool cover — Muji
Embrace chair, Pink velvet — ​Article
Sven Sofa — ​ Article
Ansa Charme Black Bench — ​ Article
Kilim rug — eBay
Mid Century Media Console, Acorn, Small — ​West Elm
Lush Velvet Pillows, Golden Oak — ​ West elm
Pink cotton pillows — HomeGoods
Eco Wise wool fringed throw — Pendleton
DINING ROOM
Seno Dining Table — ​Article
Classic Cafe Chairs, White — ​ West Elm
Globe pendant — Overstock
KITCHEN
Counters — ​ Cambria, Brittanicca
Dishwasher — ​ GE Profile
Oven — ​ GE Profile
Cooktop — ​GE
Refrigerator — ​ Fisher & Paykel
Oak drawer pulls — Rejuvenation
Kolbjorn cabinet, green — ​ IKEA
Chopping Board, Coral — ​ Hay Design
BEDROOM
Art — "After Work" (soft sculpture) -​ Rose Nestler ; "Storm Window ll" (painting) – ​ Ann Lee Fuller
Linen Duvet — ​ IKEA
Steel and Wood Minimal leaning rack — ​Yamazaki Home
Sculptural glass pendant — ​West Elm
BATHROOM
Medicine Cabinet — My Grandfather's whisky cabinet
Vanity — Aberdeen, ​Home Depot
Washer Dryer — ​Bosch
Removable wallpaper — ​ RoomMates, Black lily pads
Tub — Bellwether, ​ Koehler
Toilet — Memoirs Stately, ​ Koehler
PATIO
Grill — ​Weber Genesis S-330
Dining Table — Hampton Bay
Counters — Carrara Marble
YARD
Armchairs — SKARPO, ​ IKEA
Lush Velvet Pillows, Golden Oak — ​ West elm
Thanks Melissa!
Share Your Style:
⇒ House Tour & House Call Submission Form
See More: ⇒ Recent House Tours ⇒ House Tours on Pinterest