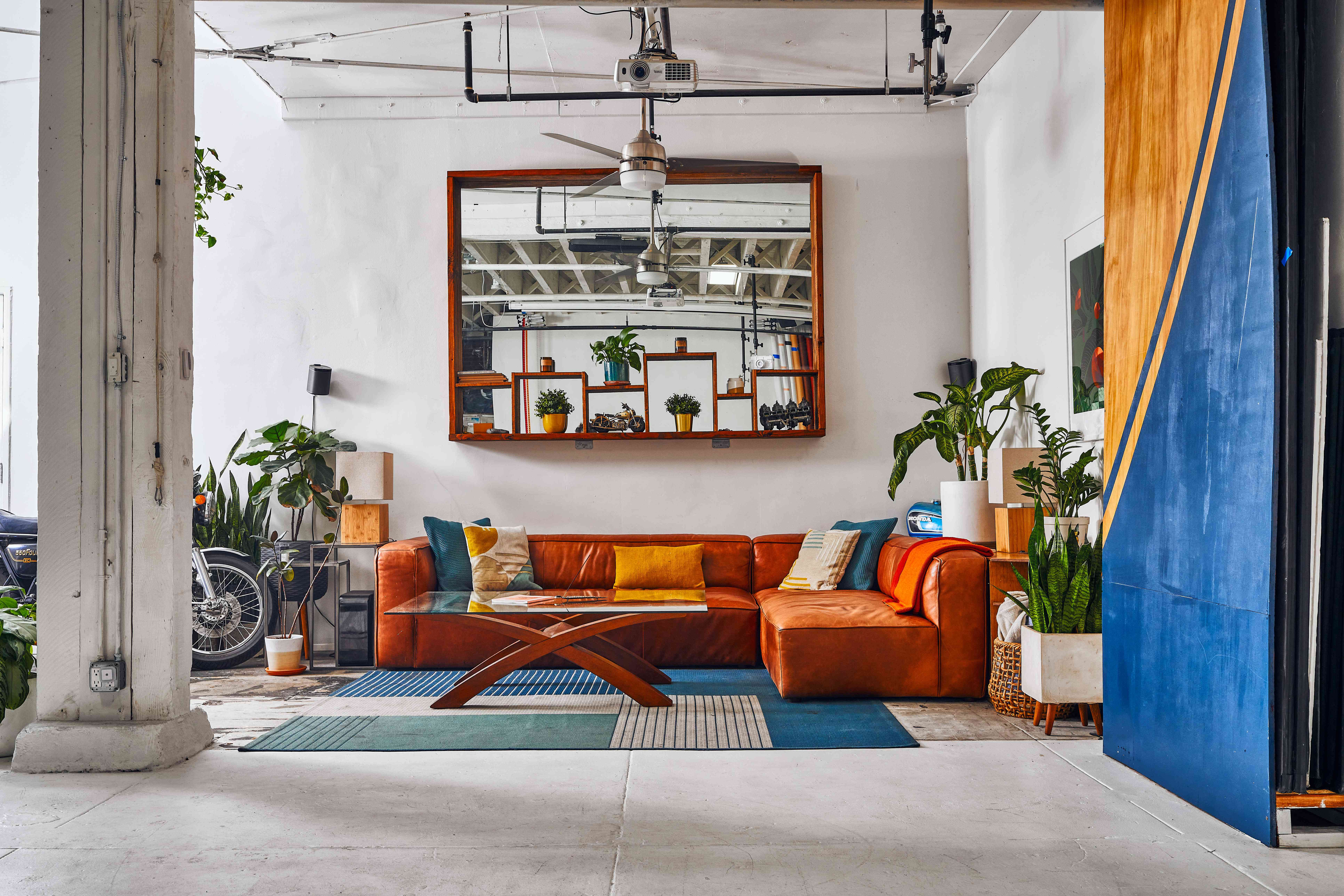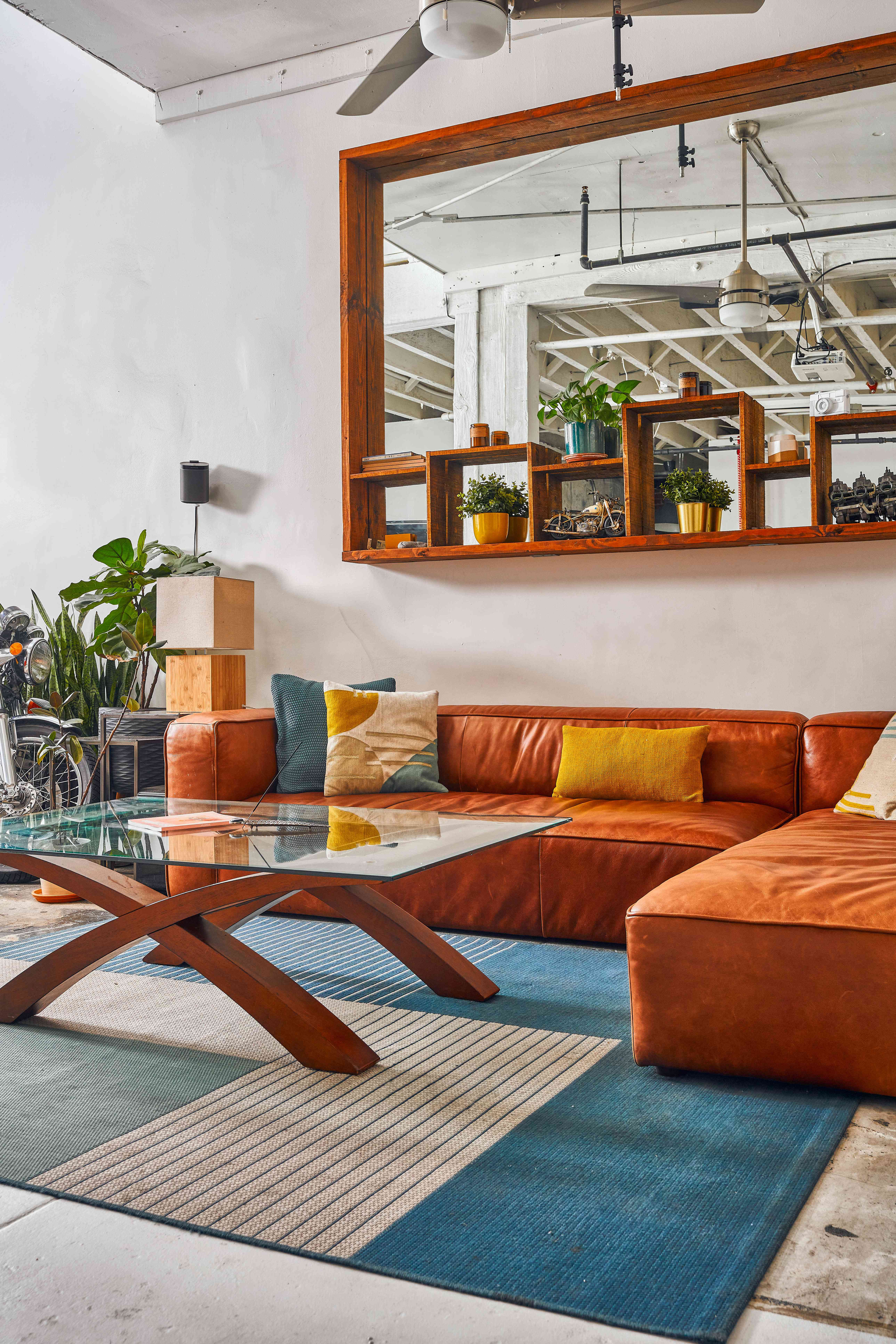 I've lived in this small artist's building on the far south end of the arts district for five years now with my girlfriend Casha Doemland and my roommate Ben Smith. The raw loft format is perfect for someone like me who prefers to mold the space according to the function I need from it. When my roommate and I were looking for a space and this one came up on Craigslist, I immediately knew it was the one. I was at work at the time so Ben dropped everything to go meet the building manager (shout out to Elisa, literally the best building manager in the world).
After three years in that first space, another (much larger) unit in the building became available and we jumped on it without hesitation. Since the spaces can be changed and modified however you'd like, there were a lot of rough edges that required smoothing out from decades of previous tenants' modifications. After a (stressful) two-month build out process, we had built ourselves a very functional three-bedroom, live-work loft space. Everything in the apartment was built ourselves (walls, rooms, etc.) to precisely fit our needs.
Since I am a photographer by trade, a functional studio space was first priority. Having good work/life separation in a live/work space can be difficult, but the multi-story structure of this loft makes that much easier. The first floor is the studio space and my office, and the second floor is the kitchen, dining area and bedrooms. When the studio isn't being used for photo shoots, it becomes a work area for crafts, yoga, motorcycles, building projects, etc. Having a utility space is great for us since all three of us greatly enjoy working with our hands.
The kitchen is definitely the heart of the apartment and the primary entertaining space; I love to cook for people so figuring out a way to store necessary kitchen essentials, while still having seating for more than six definitely informed the design of the space. The island/bar format ended up being a perfect solution for all of these.
Apartment Therapy Survey:
My Style: A fusion of loft industrial and mid-century modern.
Inspiration: Functionality has always driven my design style. Specific purpose is innately beautiful.
Favorite Element: The six skylights in the apartment are south-facing and let light into the white wall opposite them, resulting in soft, bright light, all day long. My previous loft (in the same building), had only north-facing windows, which made the light in this apartment such a massive improvement.
Biggest Challenge : Maintaining a functional photo studio/work space, while still creating a space that still feels homey all the other times. And the heat! We installed a 32,000BTU ductless mini split unit to keep us cool.
Proudest DIY: I'm quite proud of the area I built downstairs for my work station. Lots of purpose built shelving to keep my photo equipment organized and looking handsome. That or the kitchen island, which serves multiple purposes: a great gathering place for hosting dinners, prep space for cooking, much needed storage space for kitchen items, and a home for the microwave and toaster oven. I had the metal leg custom designed by a local metal shop to help support the counter top.
Biggest Indulgence: The AC unit was by far the most expensive single piece of the build out and took a lot of careful research to install. Having it definitely makes the space soooo much more livable in hot LA summers. Our previous space was cooled by two small portable units and the summers were pretty brutal. ALSO! The mini dishwasher! So vital. They are technically designed to utilize the sink spigot, but me being extra, I ran water directly to it.
Best Advice: Always start with function first. Consider how the space will be used before beginning to decorate. Then find a way to make that functionality beautiful.
What's your best home secret? Always having a home for all your things! And if your things don't have a home, build one for them! There is nothing more satisfying than having a specific and intentional place to put your things. And polyurethane! You can really elevate plywood construction by spending the extra time and effort to finish the wood beautifully.
Resources
PAINT & COLORS
Behr — White Moderne (white walls)
Behr — Midnight in the Tropics (Stairs)
Behr — Blue Moon Bay (Accent wall adjacent to the kitchen, built-in shelves)
LIVING ROOM
Sofa — Mello Taos Article
Table — Vintage
Pillows — West Elm Crewel
Sofa Table — Custom built
Lamp — IKEA
SITTING  ROOM
Rug — Morocco
Yellow Chair — Vintage (Found at Pepe's in Santa Monica. Would love to know what this is, if anyone knows)
Red Chair — Wayfair
Brass Side Table — Project 62 – Mawr Accent Table
KITCHEN
Counter top and island — IKEA Karlby
Metal leg — Steel Impression – Custom
Stools — Houzz – Bloom Walnut 30" Stools
Pantry — IKEA Sektion
Lighting — IKEA
Fan — Home Depot
BEDROOM
Bedframe — IKEA Malm
Side table — Custom
Closet — IKEA Pax
Thanks Jack!
Share Your Style: House Tour & House Call Submission Form