For the longest time, I thought there was only one solution for rugs in the bathroom: the traditional bath mat. I always struggled to find something I liked enough. Everything was either too fuzzy and nubby, or too bland in terms of design, as I like to add a punch of color via rugs in my all-beige bathroom to liven things up. That is, until I refreshed my space this past summer and went in a completely different direction.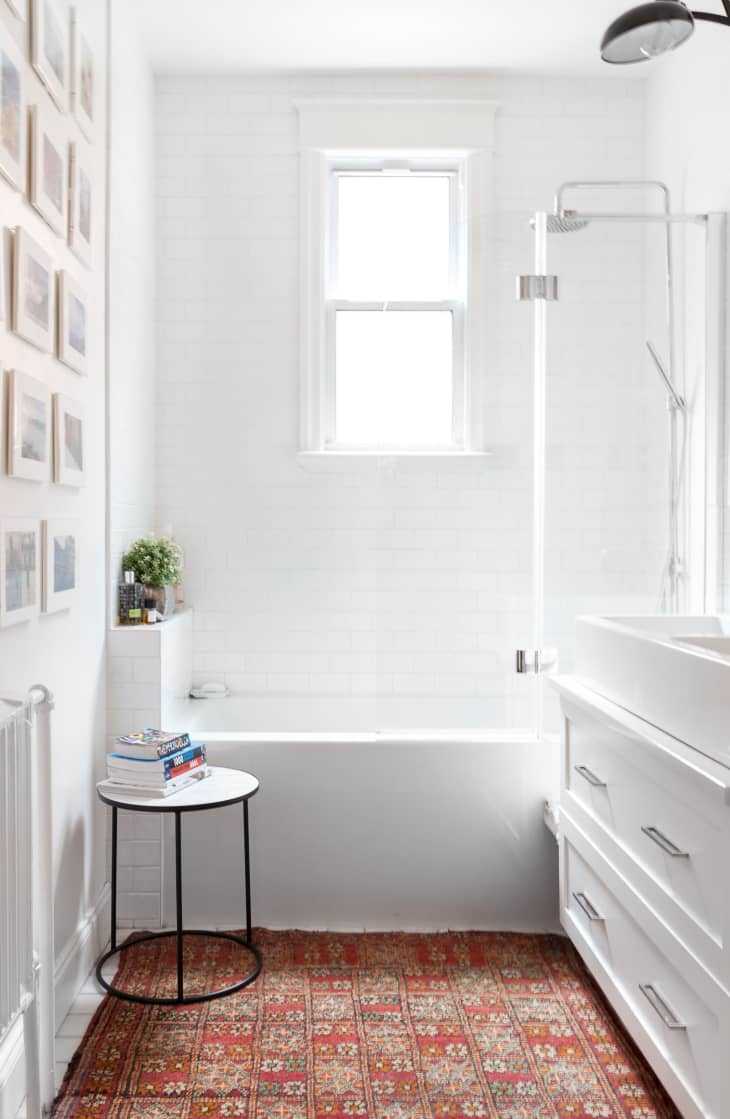 The "area rug as bath mat" concept is not a new one. In fact, we reported on our love of kilims and Oriental floorcoverings in the bathroom back in 2012. Five years later, and the look is still going strong.
Take one peep through some of the bathrooms you've saved to your Pinterest boards or double tapped on Instagram and I bet a great majority of them skipped the 2×3 mat and went for it (space allowing) with a 4×6. I myself made the switch, pulling a roughly 3×5 cotton Moroccan kilim from my office that I never quite liked in there, and I haven't looked back. The larger colorful, printed rug turned the transient space that I shower and dress in into a real room, just like that (plus it covered up a large portion of the boring, cracked tile). A larger rug provides a sense of grandeur to an often forgotten room of the home. What happens in the bathroom is often not very glamorous, but, considering the fact that it's usually the first room you step into when you awake and the last room you see before retreating to bed, it could stand to have a little more thought put towards its design.
A few things to note if you're considering this look for your own space: Remember to get a non-slip rug pad or backing to prevent the rug from shifting and any accidents from happening. As for the material of the rug, look for cotton, cotton rag, or anything that's specifically marked " washable " if you're concerned with cleanliness. I have heard, however, that manmade chenille rugs (usually made of acrylic, rayon and polypropylene) will also do the trick as they are really durable and not damaged by water exposure. Their absorption quality is questionable, but you can always get a small cotton mat to put on top for showering that you drape along your tub when not in use.
If your bathroom is long and narrow, runners also look great and are often less expensive than area rugs.
Another look to try is several small accent rugs, layered over each other to create a real boho aesthetic. The all-white bathroom of this Seattle home could have gone in any direction depending on the decor, and the mix-and-match rugs do much of the heavy aesthetic lifting.
I personally love the look and think if you're itching to shake things up in your bathroom but aren't sure what would satiate your thirst for something different, why not give this a whirl? Before committing to a purchase, try out a rug you may already have around your home that fits in the space and see if you like the look/experience. The worst that can happen is you decide it's not for you, but the alternative could completely change how you feel about the design of your space. Good luck!