Name: Scott Radabaugh Location: St. Johns neighborhood in the North part of Portland, Oregon Years lived in: 6 1/2
Scott's home is full of personality, DIYs, vintage curios and thrifted artwork. It's a space that perfectly reflects the creative sensibility and quirky touch of this talented color/pattern designer in Portland, Oregon.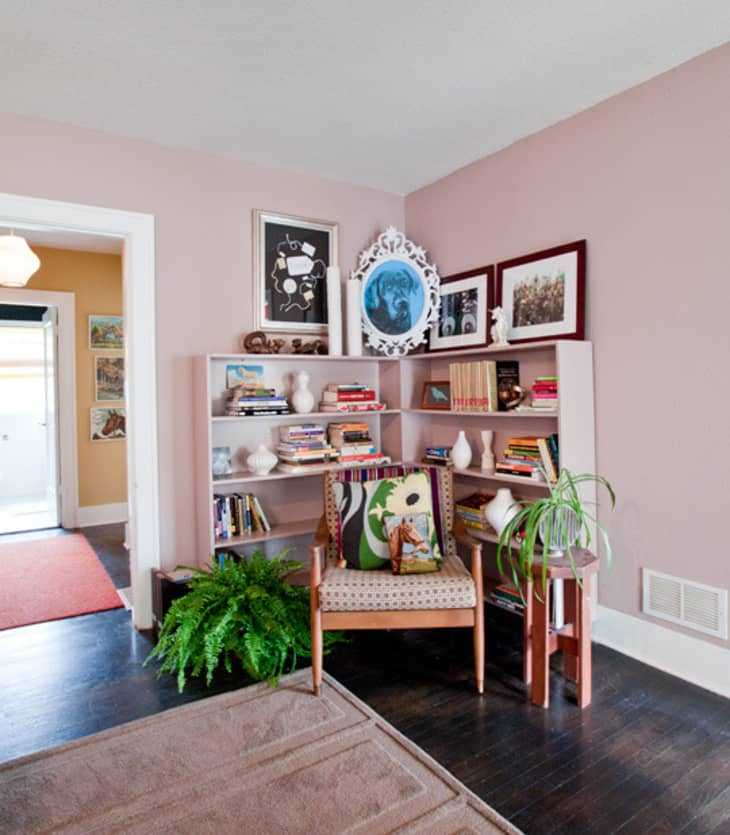 (Image credit: Apartment Therapy )
(Image credit: Apartment Therapy )
(Image credit: Apartment Therapy )
(Image credit: Apartment Therapy )
(Image credit: Apartment Therapy )
(Image credit: Apartment Therapy )
(Image credit: Apartment Therapy )
(Image credit: Apartment Therapy )
(Image credit: Apartment Therapy )
(Image credit: Apartment Therapy )
(Image credit: Apartment Therapy )
(Image credit: Apartment Therapy )
(Image credit: Apartment Therapy )
(Image credit: Apartment Therapy )
(Image credit: Apartment Therapy )
(Image credit: Apartment Therapy )
(Image credit: Apartment Therapy )
(Image credit: Apartment Therapy )
Scott's home has a circular layout with great flow. While there certainly is a lot of accessorizing and artwork in each room, nowhere does the space feel cluttered or overwhelming. Scott has found that edge of self expression/humor in his decor while still keeping it liveable, contemporary and spacious. What a gift! I love homes that incorporate whimsy, personal touches and total wackiness.
Scott is also a very talented DIY fellow – he makes it look downright easy. The kitchen is where his efforts in this area shine the brightest. He re-tiled the walls with subway tiles, installed a cork floor, added zebra counter tops and repainted the original cabinets – transforming the space entirely while keeping costs down. He's worked his tiling magic in the bathroom (as well as adding molding and trim!) and on the fireplace, too. Scott works from home, buys only what he loves and has a partner who picks up deliciously kitschy items when out at flea markets or at the thrift store. You can feel the love, campy humor and exuberance within moments of walking through the door.
Re-Nest Survey:
My style: That is a tough one as it changes. Right now my home is my version of cozy. I like finding things on a bargain. For some reason that seems to make it a bit more exciting of a purchase. I suppose I like a mix of old and new not all from the same genre, but things that you love. I also love when you find something and think "Wait, someone really painted this and had it on their wall?" Those are my favorites (the unicorn, babies and cats). Frank came to the house one day and said "This is terrible, I thought of you" and presented me with the painting of the kittens. I laughed and loved it instantly. Dog-friendly things are a must (hence the low bed). I had 3 Labradors and am down to one who just turned 13 1/2 (Hello Lucky!). It makes it easy for her to climb up in the morning. There are often area rugs thrown everywhere so she doesn't slip on the floors. Her comfort trumps any floor aesthetics (read "crazy dog man").
Inspiration: Frank's apartment in NYC. You look at it and think that every piece in it is loved. It's not that it fits one design style/period but everything comes together and makes it incredibly comfortable yet unpredictable. It isn't contrived at all. You want to grab a book and a blanket and spend days on end relaxing.
Favorite Element: Air? I am a Libra after all! Actually I think I like the flow. It is set up in a circle so you never have to stop and turn around. (Not that it is difficult but I like that you can always keep going in a forward direction and I like this questionnaire for making me realize this.)
Biggest Challenge: Budget. Paint is such a inexpensive way to make a big impact (and quick as well). But I guess that since I love a bargain, the challenge also makes it enjoyable.
What Friends Say: Oddly no one really says anything – they just tend to laugh. But to me that is perfect.
Proudest DIY: Oooh… toss up between the kitchen and the bathroom. Those were my two biggest projects and compared to what people pay to have someone do it for the, I saved a ton.
Biggest Indulgence: My B-Pop dining room chairs from "Design Not Within My Reach Unless It Is On a Really Really Good Sale."
Best Advice: Put things in your house that make you smile. You live there so that is really the only opinion that counts.
Green Elements/Initiatives: Almost every major piece of furniture and art work is vintage, handmade or thrifted.
Resources:
Furniture: • Bookshelves: Rebuilding Center originally from Powells bookstore! • Kitchen countertops: zebra wood formica (another bargain) • Bedroom dresser: Craigslist • Office desk: Frank find from thrift store (30 Dollars!) • Dining room chairs: Design Within Reach • Dining table: unfinished wood store stained by me (it's actually pretty fun and a bargain)
Accessories: • Canisters/cookie jar/kitchenaid: thrift stores and eBay • Bunny jars in dining room: Momoyo Torimitsu . They represent each of my dogs' personalities which is why I love them. Brandy was like Eeyore, very ho hum; the other one, Barkley, was oblivious and bouncing around – especially where there was food – so he was like Tigger; and Lucky is a bundle of love that everyone smiles at, so she is like Pooh. Blue, orange and yellow.
Lighting: • Light fixture in kitchen: Schoolhouse Electric • Dining chandelier: coral light that was a gift
Tiles and Stone: • Lots o' subway tile: Lowe's (bargain)
Window Treatments: • Shower curtain and roman shade fabric from IKEA (I made them)
Beds: • Quilt: my mom!
Artwork: • Paint by numbers: thrift stores and eBay. I call them "The Painted Ladies." • Painting above fireplace: done by my friends Whitney Superstar and Brett Superstar. (Whitney left it here and it fits perfectly, although I am guessing if Brett sees this, he will want it back. Shhhh.) • Photos on bookshelf: Frank Gargiulo • Painting in bedroom: estate sale! I looked on estate sale finder and thought "I need that." It's titled "11am Housewife" but I simply call her Velma. (She looks like she works at Mel's diner.) • Photos in bedroom: Frank • Print in bathroom: gift from friends by Wayne Pate • Wall art in dining room: patterns I created for women's waterproof boots and recolored for me. Would love to design wallpaper one day! • Painting above office desk: painted for me by my friend Linda Allen
Paint: • Dining room: Persimmon Red by Martha Stewart • Office: Nasturtium by Martha Stewart • Bathroom: Broadway by Behr paints • Bedroom: Fig by Martha Stewart • Kitchen cabinet color: Bedford Gray by Martha Stewart • Living room: Smokebush Rose by Martha Stewart
Flooring: • Cork flooring in kitchen: Lumber Liquidators (bargain)
Interested in sharing your home with Re-Nest? Contact our editors through our Green Tour Submission Form .
(Images: Leela Cyd Ross )