Kitchens and Kitchenware Vocabulary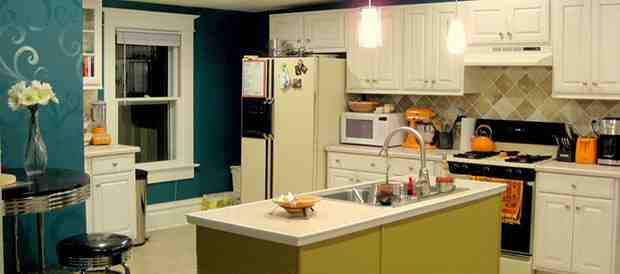 with word definitions, example sentences and quiz
Foods like fruit, nuts and certain shellfish can be eaten raw, but most of the food we eat is cooked. It can be cooked outdoors over a campfire or on a barbecue, but most food is cooked indoors in a room called a kitchen. Kitchens have their own specially-designed fixtures and electric appliances as well as many smaller items of kitchenware for preparing and cooking food and making drinks.
Kitchen fixtures and furniture
Kitchen fixtures include sinks for rinsing food and washing the dishes, benches on which food is prepared, and drawers in which kitchen utensils and eating utensils are kept. Kitchens can also have shelves and cupboards for storing cooking pots and pans and other kitchenware along with tableware like dinner plates, soup bowls, coffee cups and wine glasses. They might also have special furniture such as a kitchen table and chairs at which quick meals can be prepared and eaten.
Photo: A typical modern kitchen with many kitchen fixtures and appliances.
Kitchen appliances
The one appliance that all kitchens must have is a stove or cooker. Some kitchens have a large all-in-one gas or electric stove with several gas rings or electric hotplates on the top, a grill or broiler underneath, and an oven under the grill for baking and roasting. Instead of having an all-in-one stove like this, a kitchen can have a single or multiple hotplate that sits on a bench along with a microwave or toaster oven and a separate electric grill.
Modern kitchens also have a refrigerator with a cooler for keeping food and drinks cold and a freezer for storing frozen foods. Most kitchens also have a toaster for making toast, an electric water boiler or kettle for making tea and coffee, and a blender for making fruit smoothies and milkshakes. Other common appliances include food processors, rice cookers, coffee makers and machines, and dishwashers of various sorts.
FREE Podcasts