As they sometimes say, "A good workman never blames his tools." Well, that's great if you are doing something easy like say, putting up a shelf.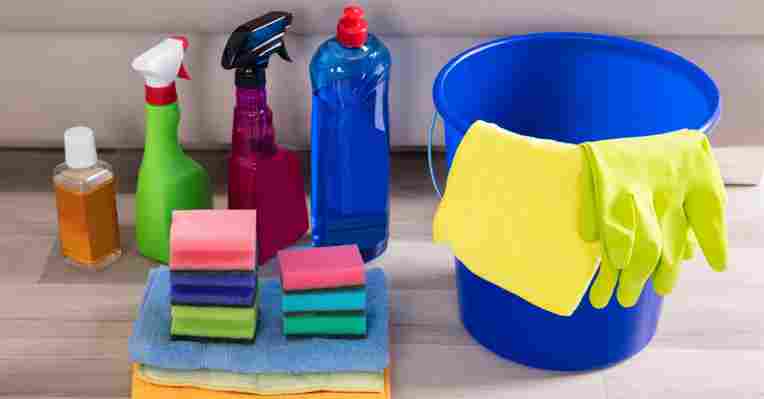 However, if you are doing something that is both important and super hard (at times) like say, cleaning, the quality of your tools are essential.
When you go to your local supermarket and go to the household cleaning section, the vast and seemingly endless array of products can give you a headache.
So, I am going to list the ten best kitchen cleaning products on the market, as recommended by some our cleaners from the Houston area. Therefore, this list will make your cleaning and shopping life a lot easier.
The sheer amount of kitchen cleaning products on the market are dizzying, so to whittle it down to a list of only ten products, I will be taking into account the following.
Health concerns
Environmental concerns
Waste reduction
Price
Customer reviews
Taking those things into account, the list below will give you a great idea of what to include in your shopping list.
1. Method All-Purpose Cleaner, Pink Grapefruit
The Method All-Purpose Cleaner (Grapefruit), is the cheapest, most eco-friendly all-purpose cleaner you are likely to find on the market today.
Not only does it leave behind a refreshing (grapefruit) sent, it also manages to cut through grease and grime like a sharp knife.
2. Scrub Free Soap Scum Remover
If you have a problem with persistent soap scum in your bathroom, the Scrub free soap scum remover will be great for you.
It also has a pleasant smell, is reasonably priced, and does what it says it will do; remove soap scum.
3. Seventh Generation Toilet Bowl Cleaner, Emerald Cypress & Fir
It is eco-friendly, it does a great job, and will not harm you; the Seventh Generation toilet bowl cleaner is perfect for your bathroom. Green cleaning products are growing increasingly popular because they don't contain harmful chemicals while being just as effective as conventional kitchen cleaning products.
4. Bar Keepers Friend
It's not only a friend for a bar keeper, but it's your friend too; perfect for your sink, the Bar Keepers Friend does a great job to keep your home sparkling.
It can also be used to remove rust spots.
5. Murphy's Oil Soap
Murphy's Oil Soap is perfect for cleaning your pesky baseboards.
It also works on your hardwood floor and other wooden furnishings around the house, it also leaves a nice smell behind.
6. Ecos Floor Kleener
Ecos Floor Kleener lives up to its name because it is very eco-friendly. Also, it keeps your floor looking shiny.
7. Lysol II Basin Tub & Tile
Lysol II Basin Tub & Tile works very well on bathroom sinks and tubs, more so than other kitchen cleaning products.
Also, it will disinfect your bathroom with not a lot of work on your part. It also smells quite nice which is a bonus.
8. Toilet Duck Automatic Bowl Cleaner
The Toilet Duck Automatic Bowl Cleaner is another one of those products that do all the work for you.
Simply, you put it in your toilet. Then sit back, relax and watch it do an awesome job.
9. Windex
Windex is a staple in any home; the classic chrome and mirror cleaner that does a great job on your home appliances.
It may not be scented, but it still does a great job; for super shiny results, try using it on your faucet in your bathroom and kitchen.
10. Fantastik Oxy Power
Fantastik Oxy Power works great with small stains on your carpet or upholstery.
Also, it cleans countertops and glass tables quite well and rarely (if ever) leaves streaks.
So, there it is, those are the best cleaning products you are likely to find.
Most (if not all) of these products are not harmful to you or the environment, are priced well and will do a great job. Looking into these solutions will go a long way towards going green.
Hopefully, after reading this post your mind is racing a lot less with the thought of what products to buy.
I think I have shown you a good range of products. After reading this post, you can find something for every area of your home.