Insights from the Institute of Culinary Education's restaurant and culinary management instructor ... [+] Richard Vayda. Getty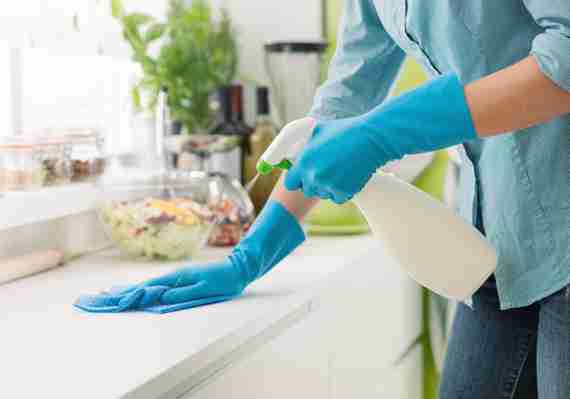 The coronavirus pandemic has reinforced the importance of good hygiene, and as we wash our hands more frequently in an effort to protect ourselves from the virus, it's also a good idea to look at other areas of the house that need some cleaning and disinfecting like the kitchen.
Richard Vayda, restaurant and culinary management instructor at the Institute of Culinary Education, said that while it's important to keep your kitchen clean and sanitized at all times, "In this particular time, when we can pass on this dangerous pathogen, it's especially important, especially if you have someone elderly or immunocompromised in your household. In addition to cleaning your kitchen, washing your hands is incredibly important. You can easily get cross-contamination with any kind of kitchen utensil or towel, but your hands are the biggest culprit."
Regarding how often you should clean and sanitize your kitchen, Vayda detailed that key tools like knives and cutting boards should be cleaned and sanitized anytime that there's been any possibility of contamination, including when you've contaminated your hands in any way. This includes when you've touched a non-food surface (like your phone to double check ingredient quantities on a recipe or read a text) or touched your body or face. Food-wise, this includes when you change ingredients, "even between vegetables," according to Vayda.
"This is especially true with proteins, especially chicken, which is typically the most contaminated," Vayda said. "Before you start cooking, clean and sanitize everything you're going to be using unless you know that it was just cleaned and sanitized before you used it. Additionally, you shouldn't be eating while you're cooking; if you need to taste, use a clean spoon and only use it once."
When it comes to cleaning and sanitizing, Vayda makes clear that they are two different procedures. "Cleaning is removing visible dirt, sanitizing is reducing the pathogens on something."
To clean kitchen tools and surfaces, any kind of household cleaner (usually a detergent) will work. "When cleaning, you have to clean with the cleaning product and then rinse—rinsing is very important. Rinse with clean potable water," Vayda said.
Sanitizing is a more involved process and requires the use of household bleach (plain, not scented, with an EPA approval on the label) or a commercial sanitizing solution. "You should not use [bleach] full strength—be careful with bleach because it is corrosive. In a restaurant, we use commercial food grade bleach. In a household, mixing standard bleach about 1/4-1/3 cup to fill a gallon of water will make a strong enough solution to sanitize. Put the bleach in first and then water to avoid the bleach splashing," Vayda said.
Vayda added that the solution will dissipate as it sits, so you want to use a fresh solution when sanitizing. And make sure you're mixing bleach with cool or lukewarm water, not hot. "Hot water causes bleach to come out of the solution; when you smell bleach all over the room, it's not a good thing because it's not in the solution any longer."
Objects and surfaces, from countertops to cutting boards, must be cleaned before you sanitize them. "If the item you're trying to sanitize isn't clean already, some of the bleach's potency will be used on that organic matter so it won't sanitize properly," Vayda said.
"To sanitize, rinse with the solution and then allow the item to air-dry. No further rinsing or drying is necessary. When the item is dry, all of the bleach will have dissipated. Don't dry with a towel because you'll be passing on contamination."
As for knives, Vayda recommends hand washing in warm soapy water, giving the blades a spray or dip in sanitizing solution, then air-drying. "Although the mild bleach solution used for sanitizing may affect metal over time, it's more damaging to plastic."