An eco-conscious attitude is top-of-mind for many people these days, and I know I'm looking to do my part to make the earth a little happier and healthier however I can. Whether you've taken up composting (tell me all your secrets, I want to learn!) or have committed to a no-waste lifestyle , I'm a firm believer that any effort is a good effort.
Personally, I've been trying to purchase less "new" stuff as we furnish our home over these next several (several being the key since I'm on a budget!) years. From scouring Facebook Marketplace to hitting up vintage shops, it has been a rewarding challenge to find new-to-me pieces that fit our style and budget. From there, anything we do buy new, we try to do so consciously—and I'm the first to admit that I'm actually surprised at how easy buying sustainably-sourced home decor has become.
Maybe it's just me, but I always assumed buying something sustainably-sourced (or made) meant sacrificing style. To put it quite simply, I thought things made with being "green" in mind were always a bit… dated? You know, the types of products you feel good about purchasing but shortly banish to the attic because they're not actually your taste — which totally defeats the purpose. Luckily, that notion is changing and changing fast. With consumers focusing on purchases that suit their increasingly green ethos , companies are following suit, and there are now a slew of sustainably-made products out there that look good, too. Don't believe me? Take a look at some of my recent faves, below. Even better, they don't cost a small fortune.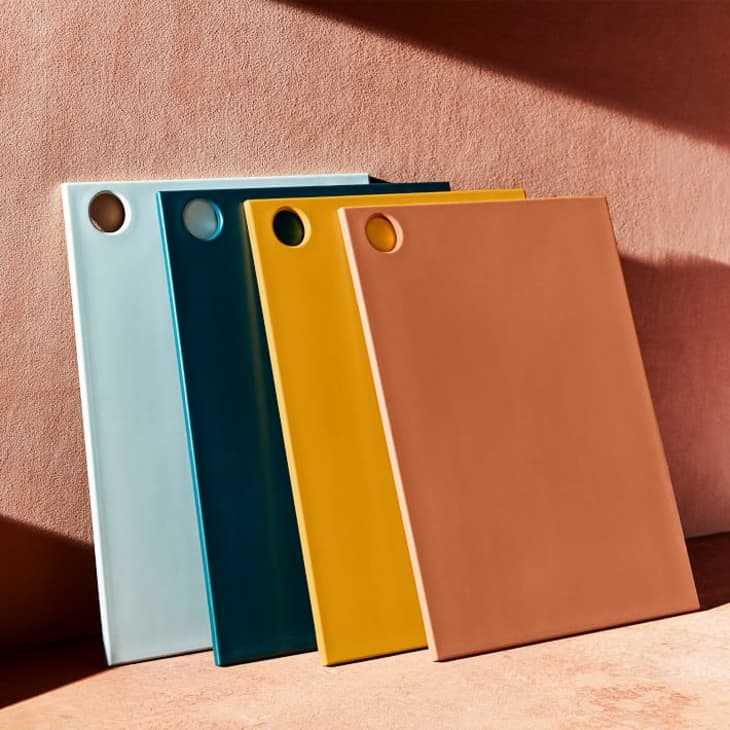 1. The reBoard
Such a nerdy thing to say, but these cutting boards have been hands-down one of my favorite purchases of the past year. They're BPA-free, dishwasher safe, super durable, and the colors are amazing; I love that you can designate a specific hue to things like meats, poultry, or seafood in order to avoid cross-contamination. The best part? They're made of equal parts recycled plastic and renewable sugarcane, so they're kind to the environment, too. Buy: The reBoard , $35.00 each from Material Kitchen
2. Buffy Comforter
If you want to feel like you're sleeping on a cloud, look no further than this next pick from Buffy. Their comforter is made from a combination of a eucalyptus exterior (which uses 10 times less water to grow than cotton) and recycled water bottles stuffing, though you'd never know the fluffy filling used to be crinkly plastic. All you'll feel: pure cozy comfort as you spend a lazy Sunday in bed. Buy: The Buffy Cloud Comforter , Starting at $129.00 for a Twin/Twin XL from Buffy
3. Aviator Carry-on Suitcase
While this next pick isn't technically decor, it's basically pretty enough that it could be. Paravel's travel gear is unparalleled, and this suitcase gets all the points for its vintage-inspired exterior and sustainable interior. The company touts the piece as being entirely carbon-neutral, thanks in large part to a contribution made for each piece sold that negates its production emissions. On top of that, each case also features sustainable materials like a recycled polycarbonate shell, recycled zippers, a lining made from plastic water bottles, and a handle made from recycled aluminum. Buy: Aviator Carry-On Suitcase , $255.00 from Paravel
4. Wireless Charging Shelf
Charge your gear without all the cord chaos, thanks to this next pick from sustainably-minded company Solgaard. Their wireless charging shelf , which raised over $600,000 on Kickstarter, can fuel up to four gadgets at once and is made using recycled ocean plastic and recycled PET. Buy: HomeBase Wireless Charging Shelf, $195.00 $149.00 from Solgaard
5. Kilimanjaro Rug
Add a pop of fun pattern to your living room or bedroom with a rug woven from recycled plastic food and medicine containers. This eye-catching black-and-white print from Fab Habitat utilizes over 279 recycled pieces in its construction and is perfect for both indoor and outdoor use. It's also fade-proof, reversible, and mildew resistant. Truly, have you ever met a rug more qualified for the job? Buy: Kilimanjaro Rug , Starting at $399.00 for a 3-foot by 5-foot rug from Fab Habitat
6. Decade Chair
Whether you need to upgrade your WFH chair or decorate your dining room, you can feel good about purchasing one (or eight!) of these sleek modern chairs from Blu Dot. Made from 100 percent recycled plastic that's injection-molded, they're stackable and come in a range of cool shades, so you're sure to find one that fits your vibe. You can also use them outside!
Buy: Decade Chair , $129.00 from Blu Dot
7. Stripe Indoor/Outdoor Pillow
Summer is almost here, which means all of our outdoor spaces are in need of a little TLC. Give your outdoor couches or benches a stylish boost with these charming printed pillows from West Elm. Not only are the blush and French blue shades totally summer-ready, but they're Fair Trade-certified and made sustainably, with a plush filling crafted from recycled water bottles. Buy: Variegated Block Stripe Indoor/Outdoor Pillow , Starting at $45.00 from West Elm
8. Ecopots
Give your green things a little love with these eco-friendly planters from Bloomscape. Each planter is made from over 80 percent recycled ocean plastic and no single-use plastic whatsoever. Beyond that, the colors are chic, and they're suitable for all types of weather and conditions, making them a great option for that container garden you're considering. Buy: Ecopots , Starting at $35.00 each from Bloomscape
9. Cocktail Table
Gather 'round this chic modern coffee table for cozy cocktails or a friendly yet competitive board game with your roomies. Made by Loll Designs, the piece is crafted entirely from post-consumer recycled, high-density polyethylene, mostly sourced from discarded milk jugs. Bonus: Since the company's inception, they've kept an estimated 100 million milk jugs out of landfills. Buy: Lollygagger cocktail table by Loll Designs , $395.00 $335.75 from DWR
10. Hybrid Latex Mattress
Good news: you don't have to sacrifice comfort (or your back) if you want to shop for a sustainably-made mattress. Simply look no further than Brentwood Home; the company combines eco-friendly materials (like organic wool and flax seed pads) with renewable recycled picks (like upcycled denim scraps and performance fibers made from recycled water bottles) to create their mattresses. Plus, they offer a one-year risk-free trial, so you can rest easy knowing you made the right purchase for the earth and your wallet. Buy: Hybrid Latex Mattress , Starting at $899.00 $799.00 for a Twin from Brentwood Home