So many times I put off a big decluttering task because of how hard I think it's going to be, whether I'm worried it'll take too much time or energy or I just plain don't want to do it. But almost equally as I often, I discover that the thing I thought was going to be such a drag was far easier than I thought and done in so much less time.
But if you're trying to accomplish a big goal that—even in the most motivated of moods—is going to take multiple days or sessions to complete, you have to jump that mental hurdle of getting started over and over again. That's when what I call a "reverse to-do list" comes into play.
Typical to-do lists are created before the work is done (it's right there in the tense of the name). Reverse to-do lists, on the other hand, are made at the end of the day to document all that you've accomplished that day. That way, you can feel great about your progress, and set yourself up to know exactly where to start when the next session begins.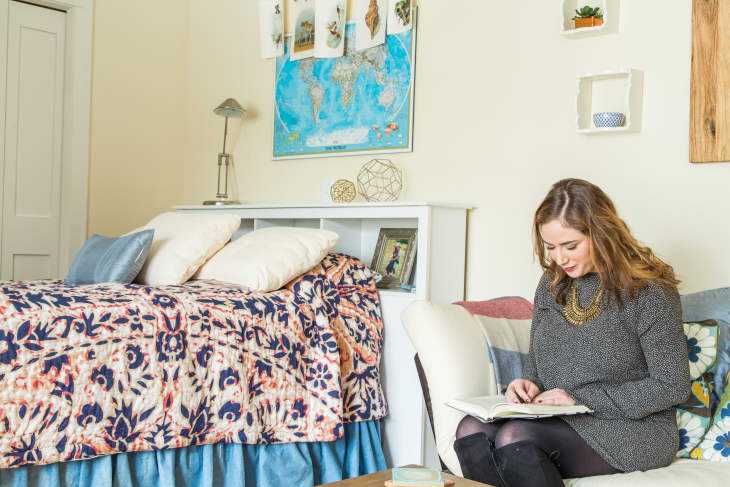 A reverse to-do-list lends stamina when it's needed and also avoids the repeated wasted time of having to piece together what's done and not done and which pile is what and goes where and all of those other exhausting figuring-outs that have to happen before the real work begins.
A reverse to-do list boosts morale and saves time, but it can also help keep a large project from fizzling out. It helps propel you to the finish line so you can attain those seemingly insurmountable decluttering goals. In addition to large decluttering projects, reverse to-do lists are helpful for any multi-step or long-lasting project, like home renovation projects, major trip planning, holiday planning, financial overhauls, and photo organization projects.
How to Write a Reverse To-Do List
Let's say your big project is Decluttering the Garage. Before you start, you may make a typical big-picture to-do list, with areas you want to complete, storage items you need to buy, donation centers you need to contact, or refuse pick-ups you need to schedule.
You spend two hours on Saturday morning digging in and you are purposeful in starting in one corner of the garage, where the kids' toys (and all kinds of other stuff) are, but you also go with the flow and stop for the day when you realize you should post some bigger things you want to sell online sooner rather than later. You're feeling great about how much you got done. And that's when you should start your reverse to do list.
1. Write down what you did.
Rather than letting this fleeting sense of accomplishment come and go, grab your notebook and "pin down" exactly what you did. In addition to checking off any to-dos that you finished, write down specific things you did that weren't necessarily on the list, such as: got rid of old rain boots, recycled magazines I'll never use for craft projects, listed old party decorations as free on Facebook, posted train table for sale online, swept around pet food containers. You're patting yourself on the back with pen and paper and it flips that powerful switch that says, "I can do this. I am doing this. I'm awesome. I can keep going. I will finish this one bite at a time."
2. Write details about where you left off.
Write notes about aspects of your decluttering that are still in progress, like the piles of clothes you've got in four different laundry baskets. Jot it all down so you don't have to look at size labels next time you're in the garage or exert the mental energy of remembering which basket is for hand-me-downs and which is for donations. If you have a systematic project that stopped at a certain number or shelf, write that down, too. By writing down details about where you left off, you can slide right back into the groove the next time you work on your project.
3. Write down what to do next.
Based on what you actually did (not what you planned to do), make an action plan for your next session. Something like: 1. Finish going through craft supplies. 2. Post six more things to sell. 3. Donate what hasn't sold that I posted last time and take down the listings. 4. Go through two more bins of clothes.
What project will you start a reverse to-do list for?